In 2020, we went on a bike tour along the Eastern Sierras and through Death Valley. This adventure features Calvin, Katerina, Gump (our 2010 Subaru Forester), Bessy the Disc Fucker (my touring bike), and Ms. Bellingham (Katerina's touring bike).
Bessy and Bellingham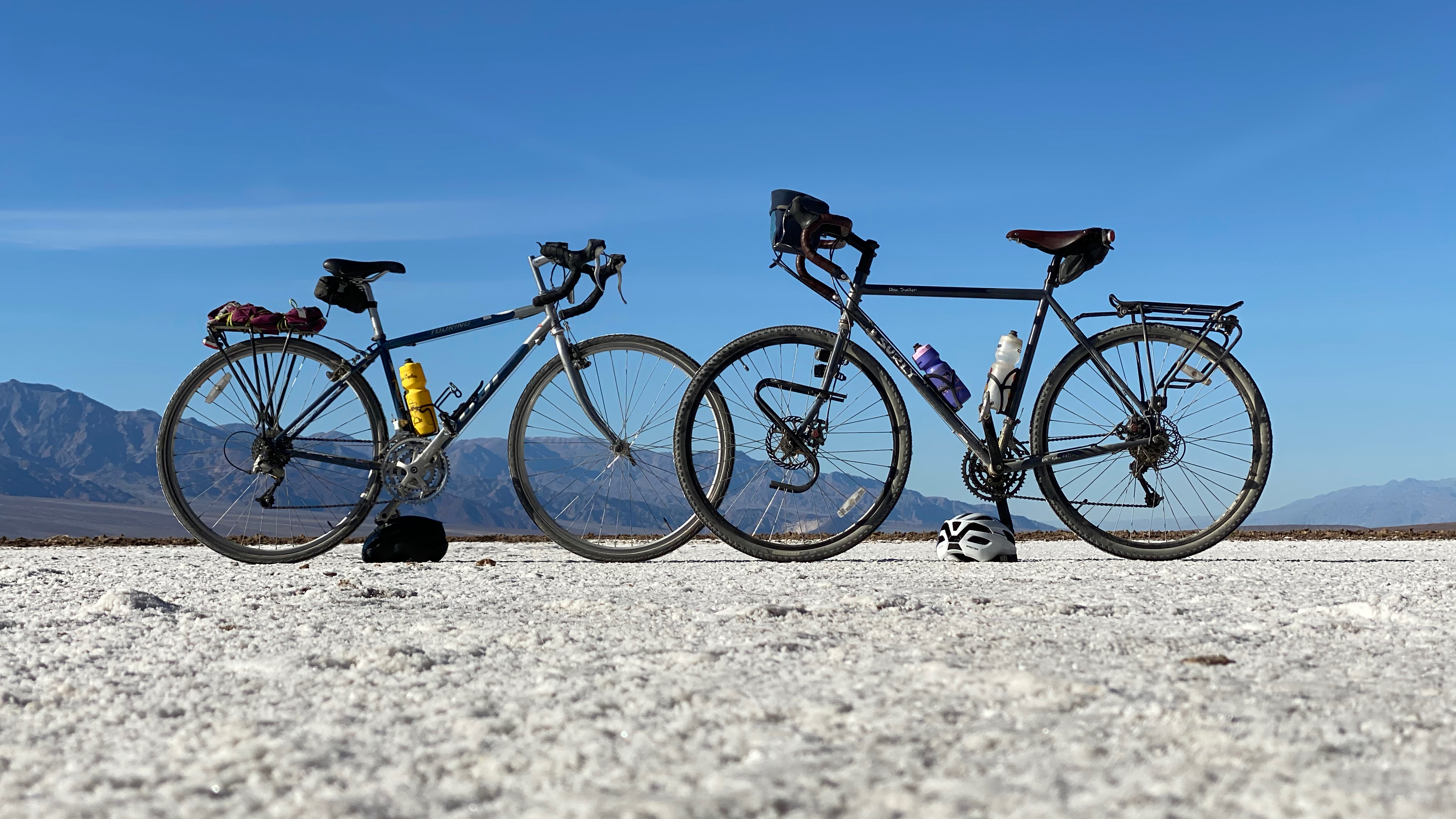 Day 0
We woke up at the butt crack of dawn to start this journey. We'd done a really good job packing the night before and still made it to bed at a reasonable time. Up at 4, out the door by 4:45, we started the drive to the eastern sierras. The sun rose in the Central Valley and we got to bask in the Tahoe views with some recent snow and then the entirety of highway 395 from the intersection of 88 down to Big Pine, CA. This is one of the most scenic highways I've ever driven - I highly recommend it.
The plan for day 0 was to bike up to the Ancient Bristlecone Pine Forest in the White Mountains outside Big Pine and come back to the car to camp. We arrived at our starting point right on schedule and started biking after a quick tortilla wrap lunch. It was going to be tight - we had only 4 and a half hours of light to bike ~44 miles. Huh? Tight? That sounds reasonable… Oh, did I mention the 6000' of elevation gain over 22 miles? It was going to be tight.
We were greeted by a sign warning of tight turns and steep grades as we started our ride and boy was it right. We chugged along, Katerina close behind me to ease the headwind. After making it to the start of the Forest Service road up to the Schulman Grove we learned from a sign about the native trees in the area. The Single Leaf Piñon Pine and Juniper Trees would follow us closely for the next week and beyond.
We continued to bike and around our turn around time made it to a fantastic look out point over the Easter Sierras. Unfortunately, we didn't make it up to the Bristlecones - something to come back for! As the temperatures dropped, we layered up as best we could (not enough) and started a frigid descent. We were at around 9000' feet and heading back down to 4000'. Temperatures became more bearable as we descended and we were treated to a stunning sunset as we returned to the car.
We took Gump to some BLM land outside Death Valley NP where he would live for the next 8 days. After some dinner and some last minute pannier packing and bike tuning (my rear derailleur was just ever so slightly off - this would be a recurring theme for the week) we crashed in the back of the car.
Kat on our first climb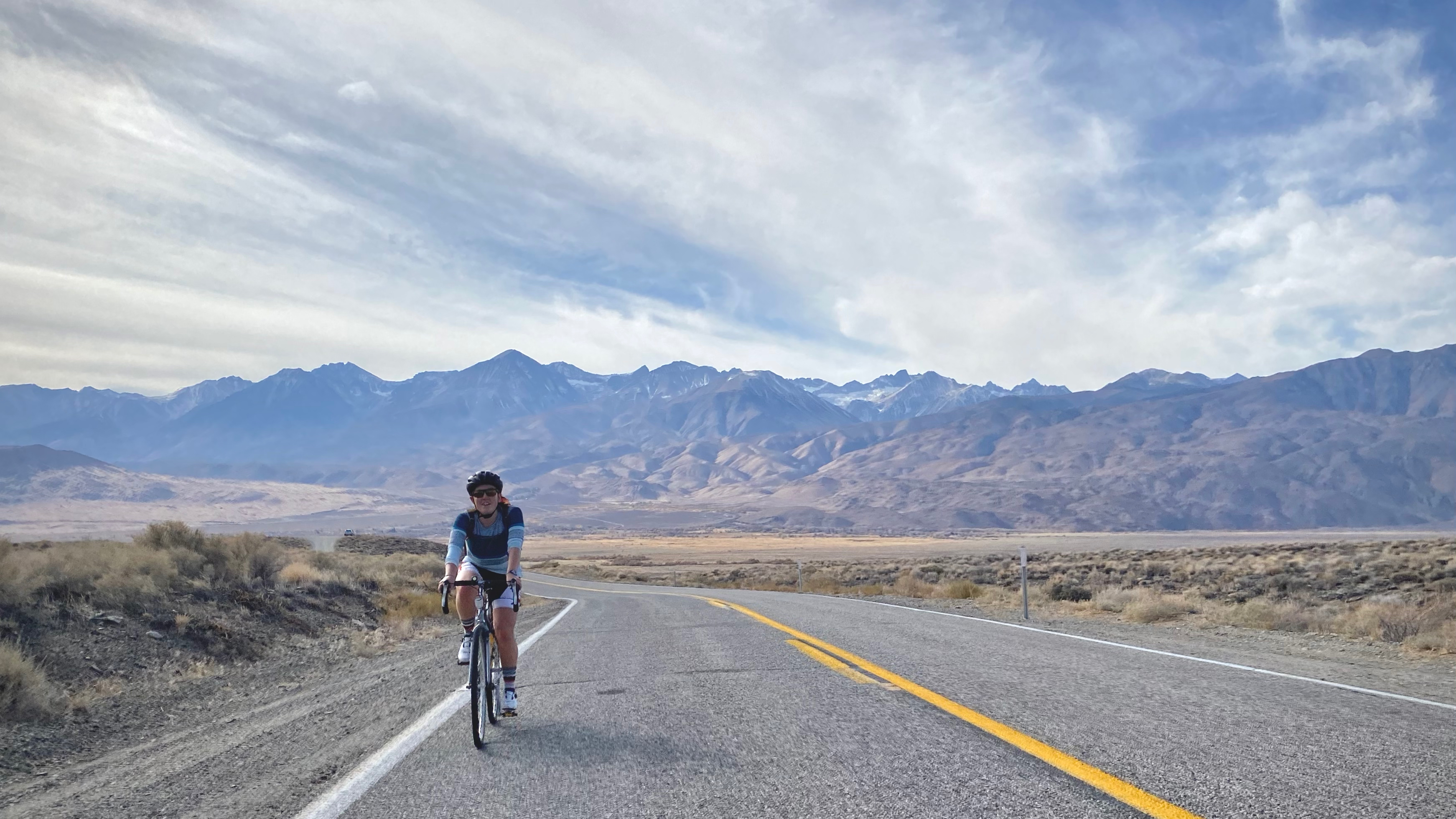 Bessy overlooking the Eastern Sierras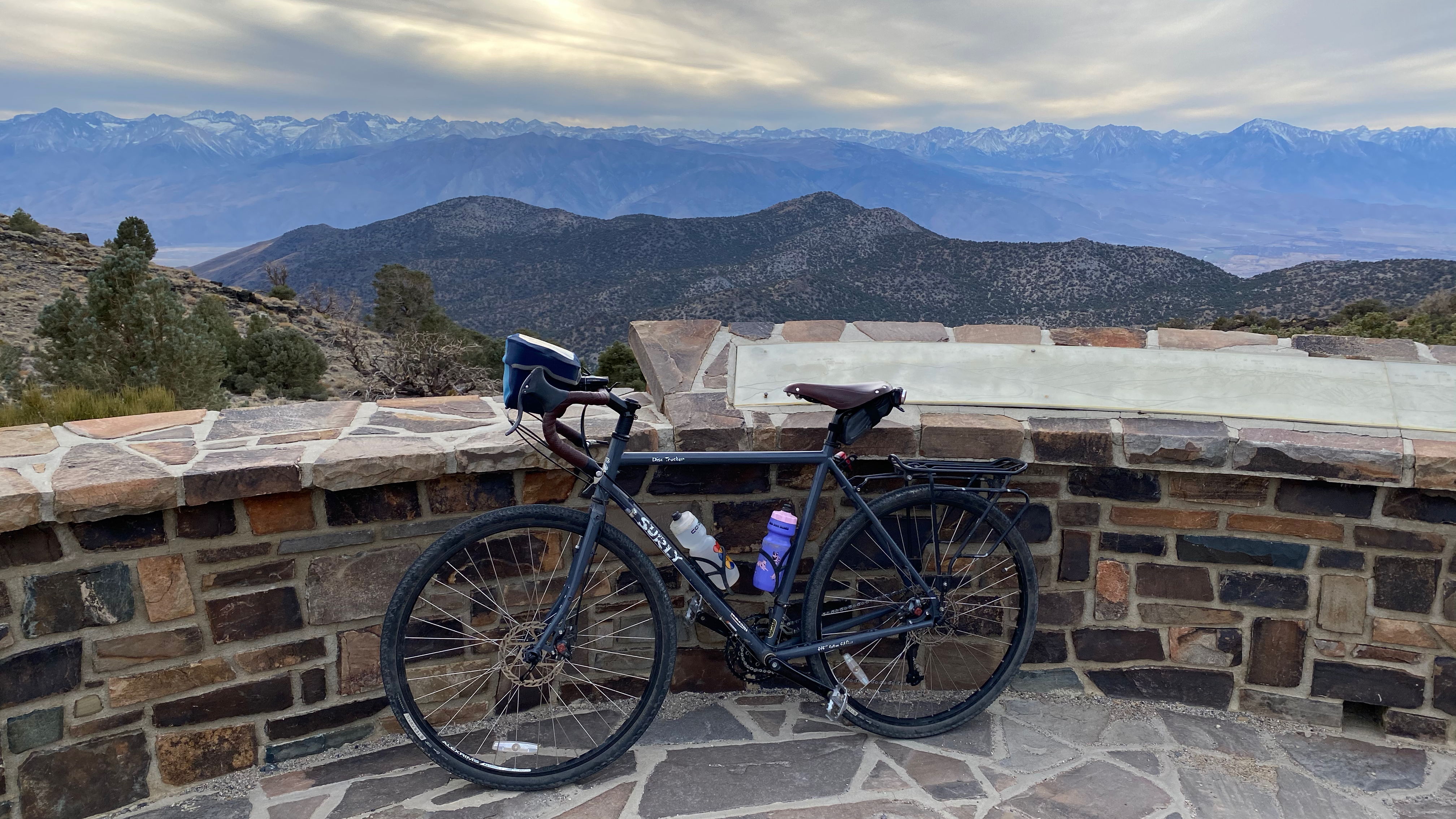 A killer sunset on the descent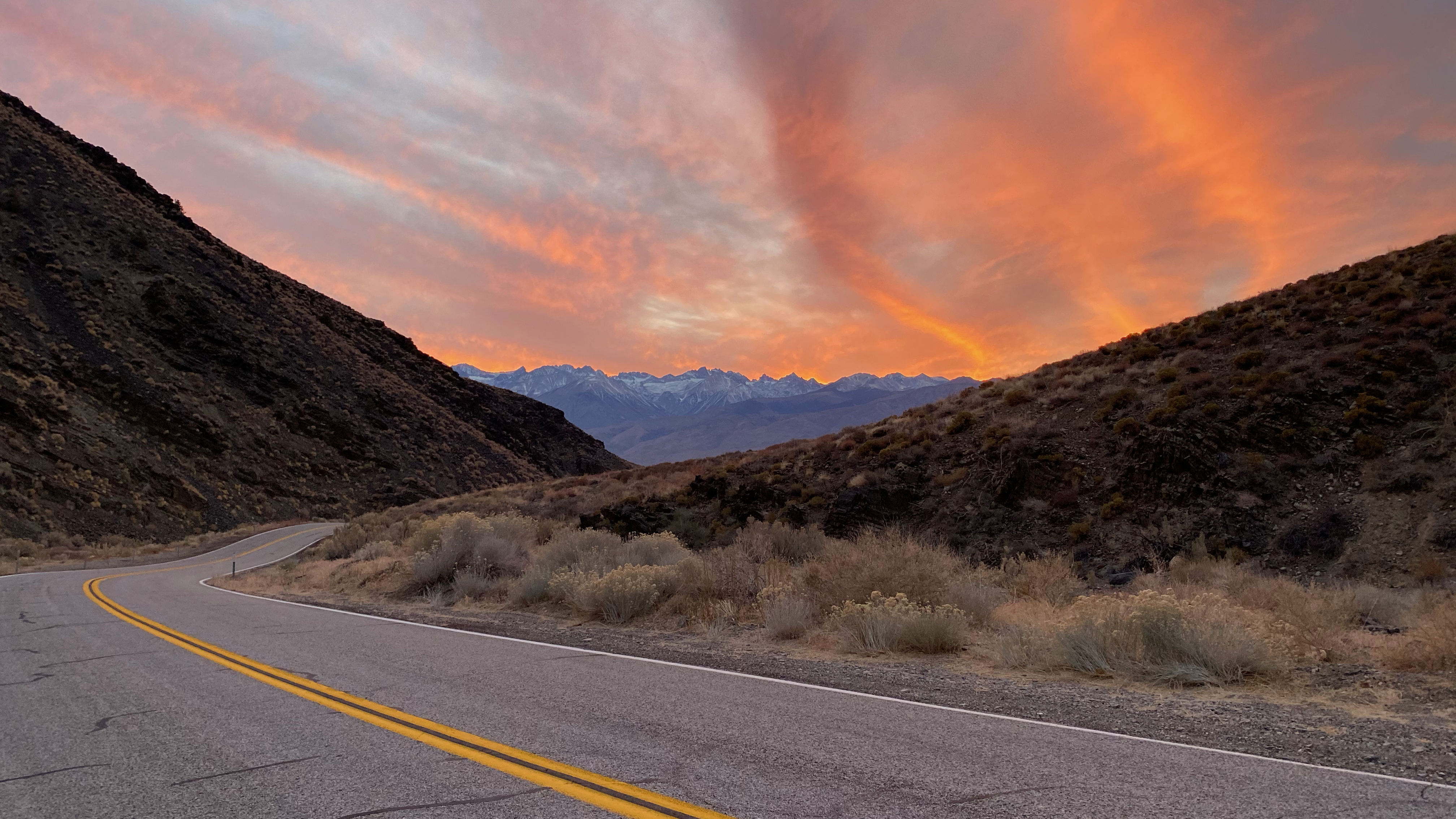 Day 1
It was a cold wake up with the sunrise. We ate a quick breakfast (including some raspberries - some of the very little fresh food of the week), put our panniers on, said goodbye to Gump, and started biking. Today's ride was one long uphill and one long downhill. We started our 3900' climb up Death Valley Rd and happily steered towards the sunny spots for some warmth.
The cool temps in the morning helped ease a climb which was harder than normal because we were carrying 2 days of water (more than 16L between the two of us - that's 36 extra lbs!) By lunchtime we'd reached the pass and took a quick detour down a side road for a lunch spot that overlooked mountain plains, desert valleys, and the sierras. Not bad! We were passed by a park ranger jeep who we didn't expect to see in a fairly remote area. Luckily, we weren't doing anything illegal at the time!
We ate our lunch on one of the best pieces of extra gear we brought - a beat up thermarest camping pad. This pad would be our good friend and a luxury for the next week. We ate tuna wraps and basked in the sun before setting off on a huge descent - more than 5000'. On this descent we passed into Joshua Tree elevations. They started out small, scraggly, and sparse, but as we got further into their range we ended up in a dense and lively forest of the whacky trees.
We bottomed out in Eureka Valley and started our long dirt traverse of the trip. We had about 20 miles to go, but the mood quickly turned sour as the dirt road quality became more and more aggressively washboarded. No fun at all. About 7 miles into this dirt road, I had a brutal realization - my Chacos (the only other shoes I had besides cleats) had fallen off the back of my bike. This one was squarely on me - i should've tied a better trucker's hitch. I unloaded my packs and started riding back while Katerina enjoyed some time in the sun to read. Ultimately, I found the sandals not 15 feet from the start of the dirt road which meant 14 extra miles of extremely unpleasant washboarded road riding. I was not a happy camper.
As we continued on, it became clear that the road quality to our campground would continue to get worse. We decided to camp off the side of the road in the wilderness and reduce the amount of bad road we'd have to ride tonight as well as backtrack tomorrow morning to continue our loop. This was the right decision.
We chowed down on some freeze dried backpacking meals, watched someone with a headlamp descend from the mountains after dark, and went for a moonlit walk down our dirt road before heading to the tent to play a game of cribbage and sleep.
A chilly morning in Owens Valley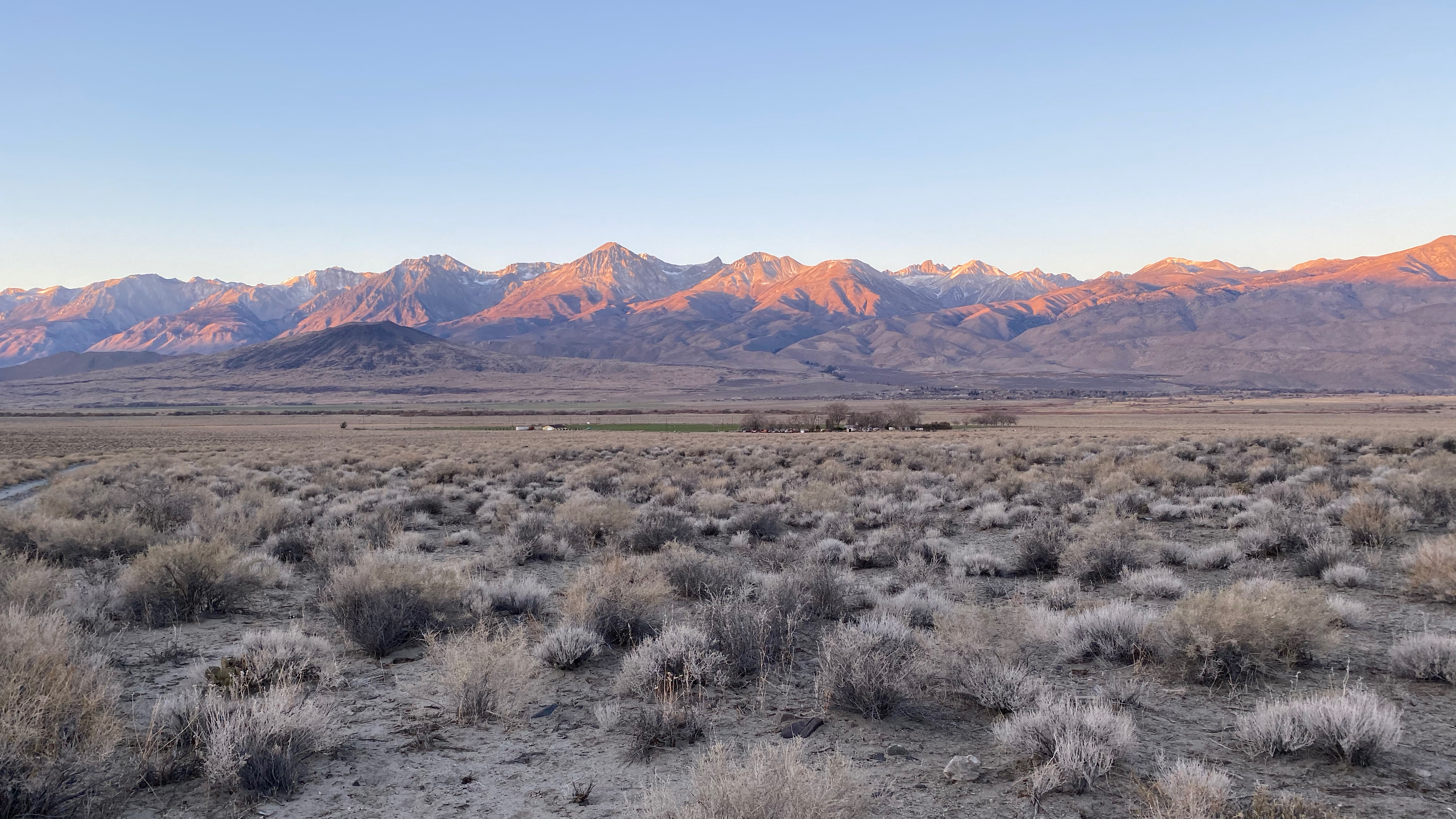 Joshua Trees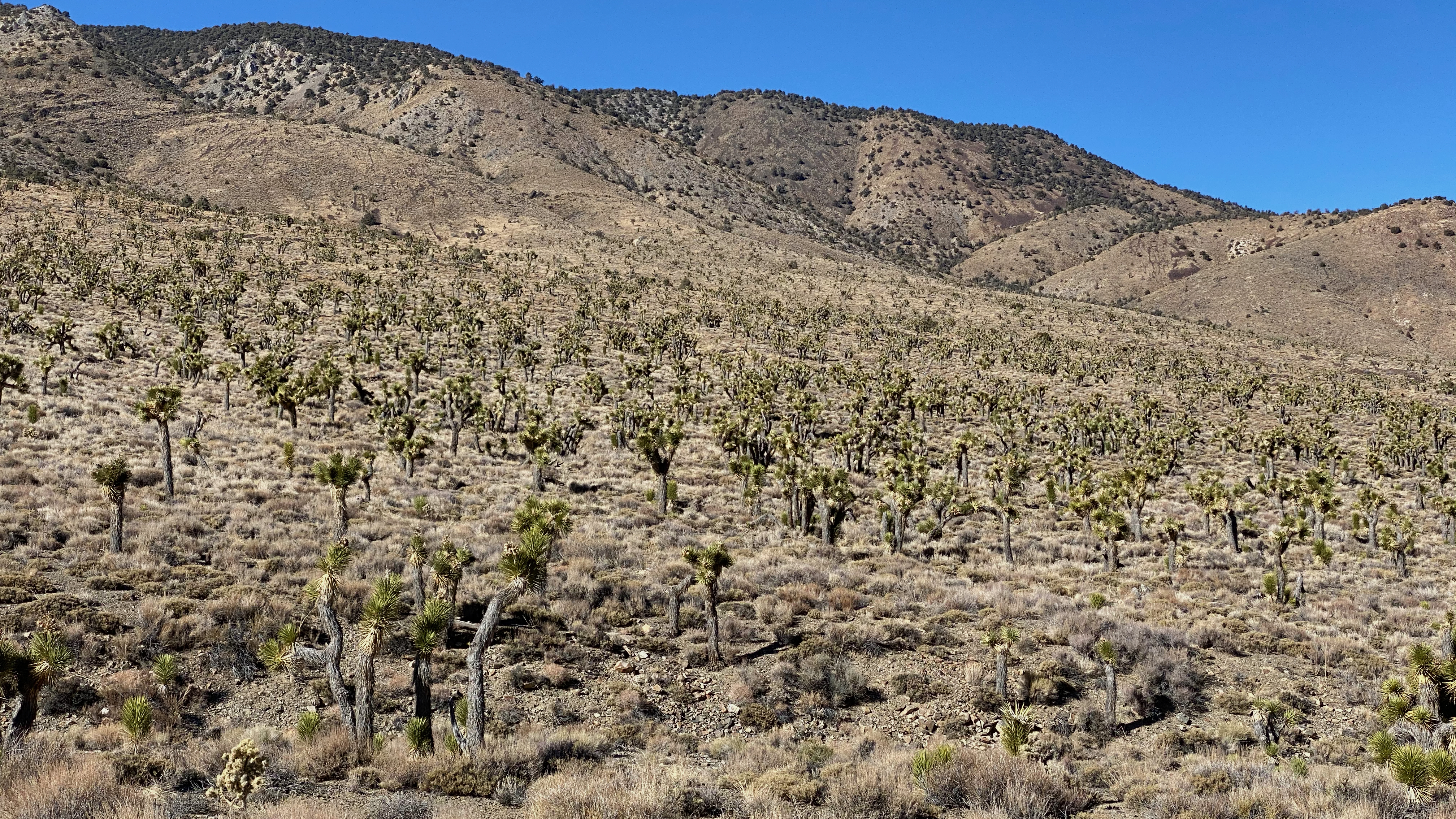 Entering Death Valley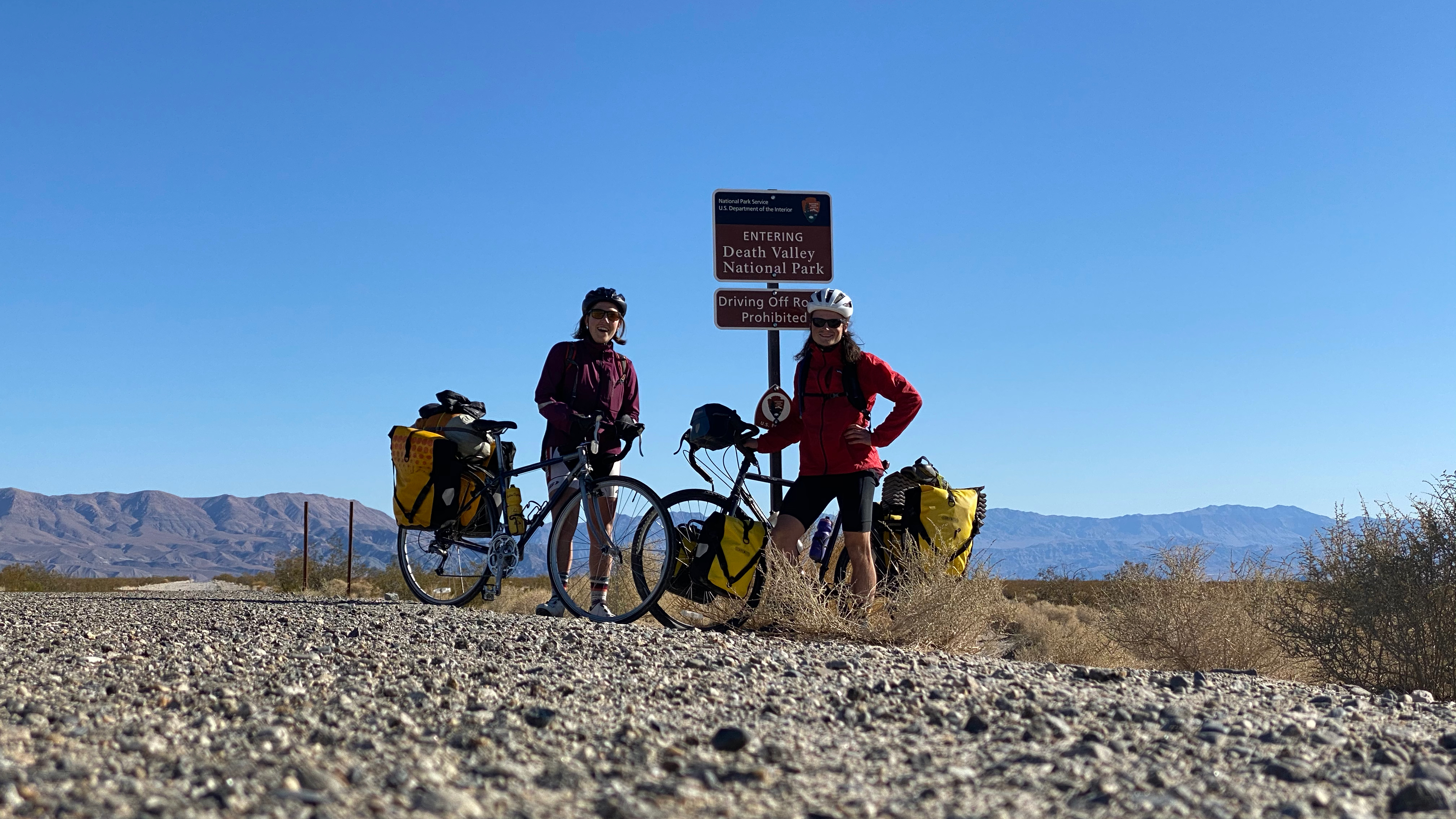 Sunset in Eureka Valley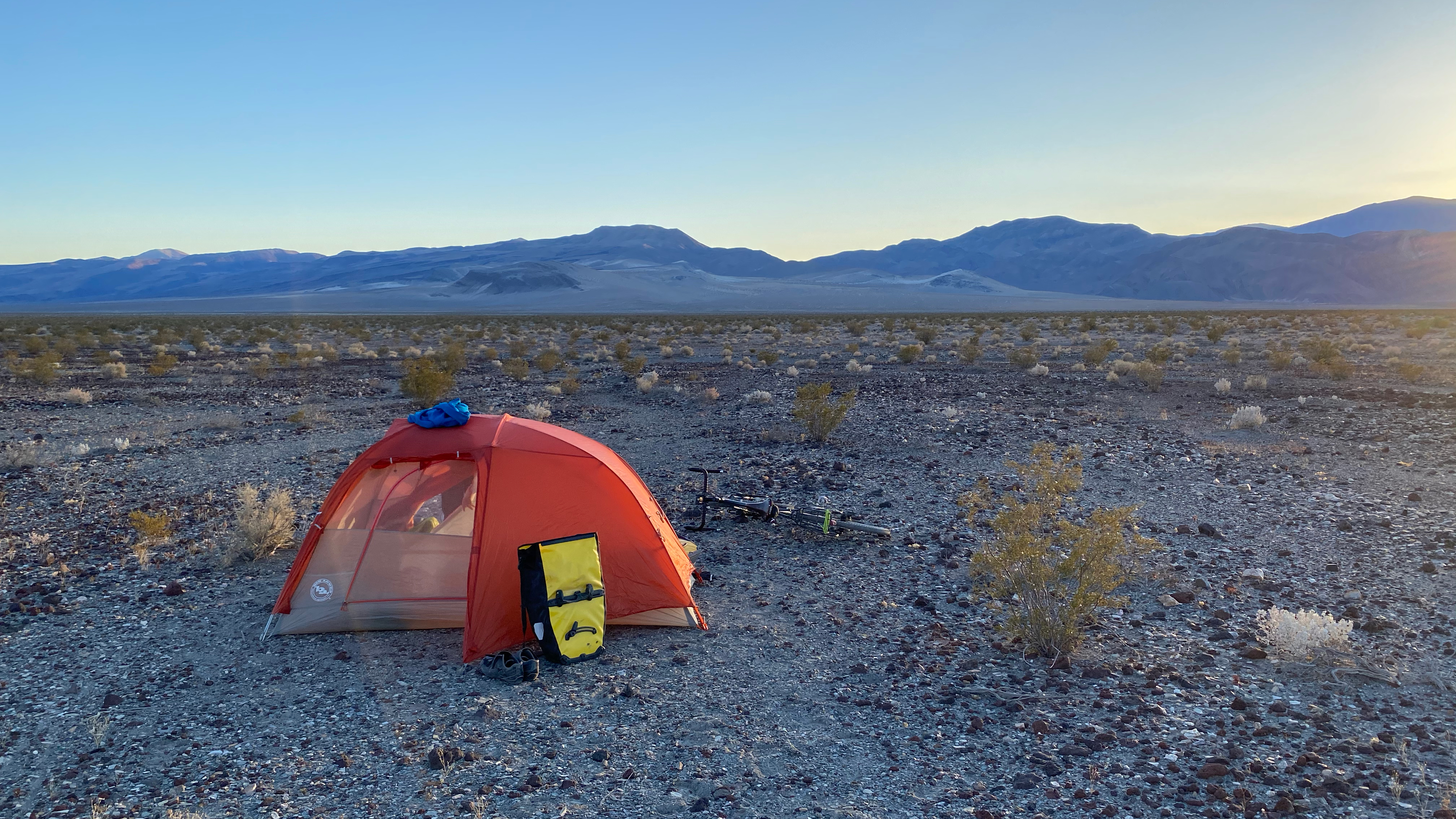 Day 2
The night before, the moon had been out in full force. In an attempt to see some stars, we decided to wake up before sunrise to see if the moon had set. At around 5am, Katerina got out of the tent to take the rain fly off and then quickly got back in. There was no moon, but even though sunrise proper wasn't for another hour and a half, we could already see signs of light on the horizon that seemed to wash out the stars. Bummer. We dozed for another hour or so and then started packing camp.
Today was another day of climbing in the AM and descending in the PM. We were lucky to get a few miles of paved uphill (although still quite steep) before almost the entire rest of our day turned to gravel. We set out early to beat the heat and made it up the whole 3900' foot (yep, same as the day before) climb before 10 or so. At the top of the pass there was an old Sulfur mine and a guy with a sweet school bus rig who was flying a drone around.
At this point we were back on gravel, somewhat hesitant due to yesterday's experience. Luckily, almost the entire rest of the day was down hill or flat (and as luck would have it, with the wind) which made things much easier. Before descending into the north end of Death Valley proper we caught a glimpse of two deer in the mountains! Crazy that mammals live out here given the conditions!
As we descended we could feel the heat increase. Right around Crankshaft Junction, the road turned from washboard into sand. Great. We chugged along and were craving some lunch. Unfortunately, there were no good shady spots to sit down and eat. It is Death Valley, after all. We ended up building ourselves a wind and sun shelter by leaning our bikes up against each other and draping some clothing over them. Worked like a charm!
Soon enough we were back on the road. That road went back and forth between being washboard and sand with the occasional section of deep, chunky gravel. At least it was downhill! Katerina kissed the pavement when we made it there. Almost done for the day, we did a small out and back to see Ubehebe Crater in some golden light before heading to Mesquite Springs Campground.
Starting the climb out of Eureka Valley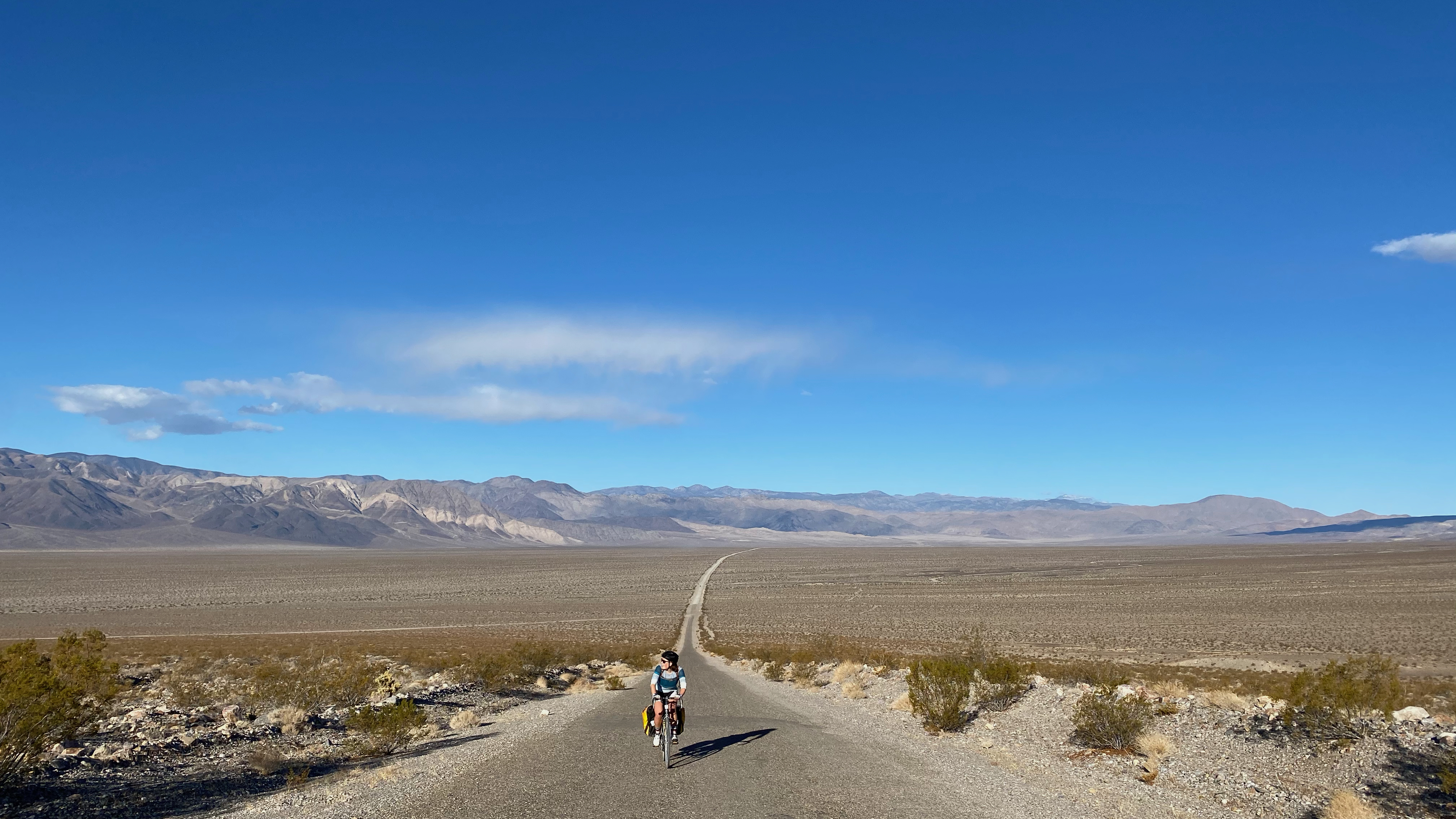 Halfway up to the sulfur mines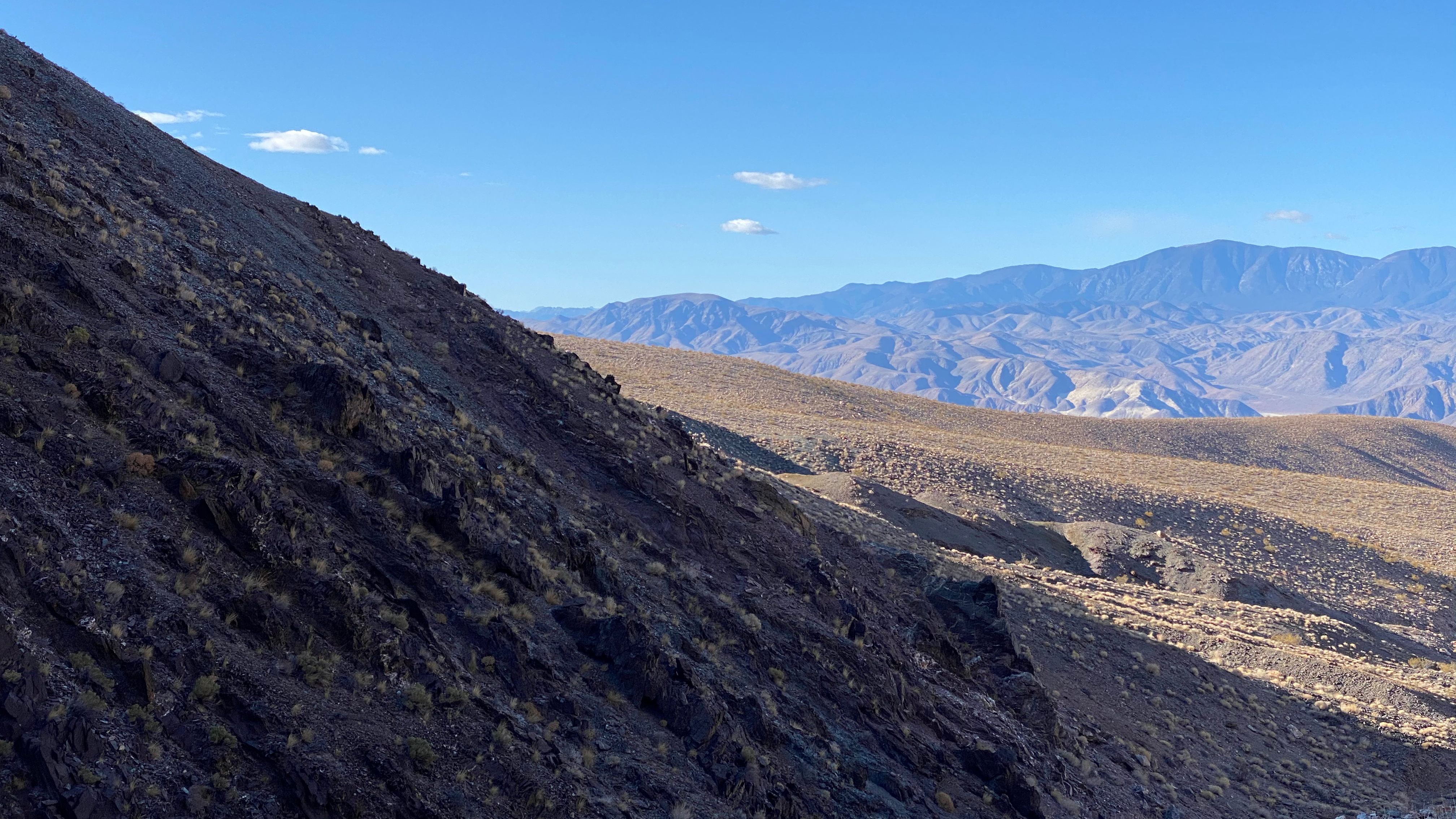 Curving through the rock gardens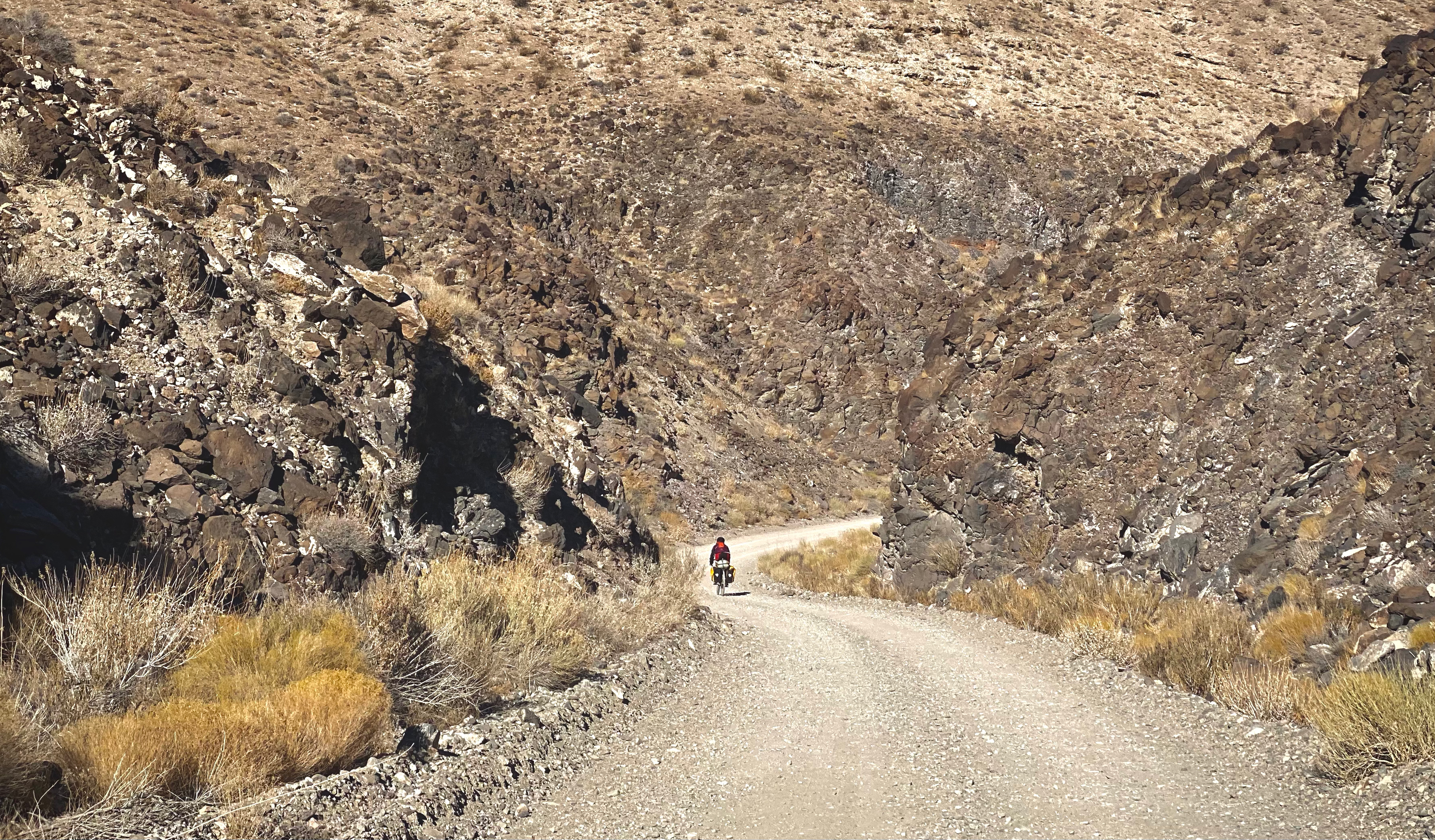 Kat looking badass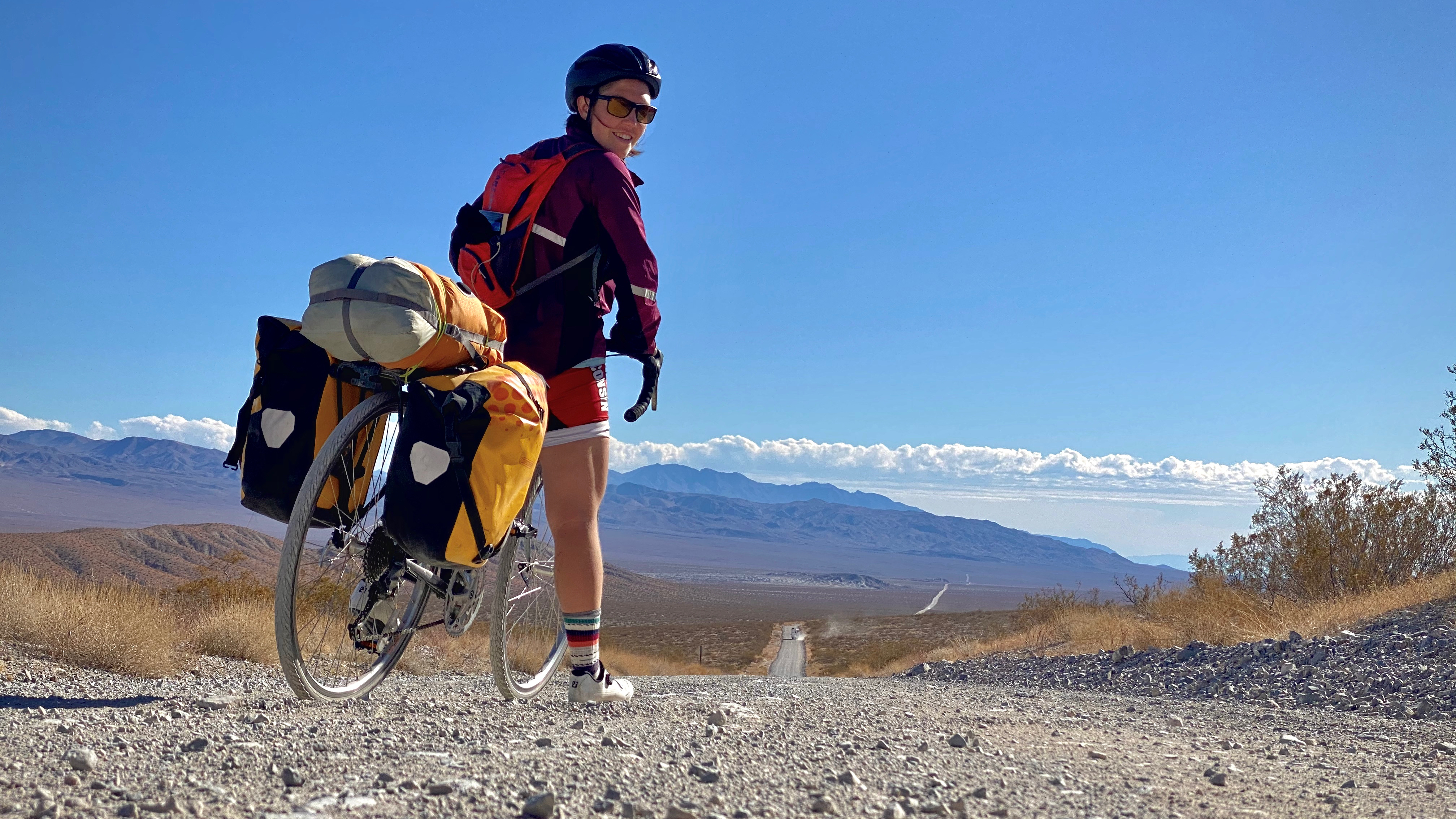 Post lunch napping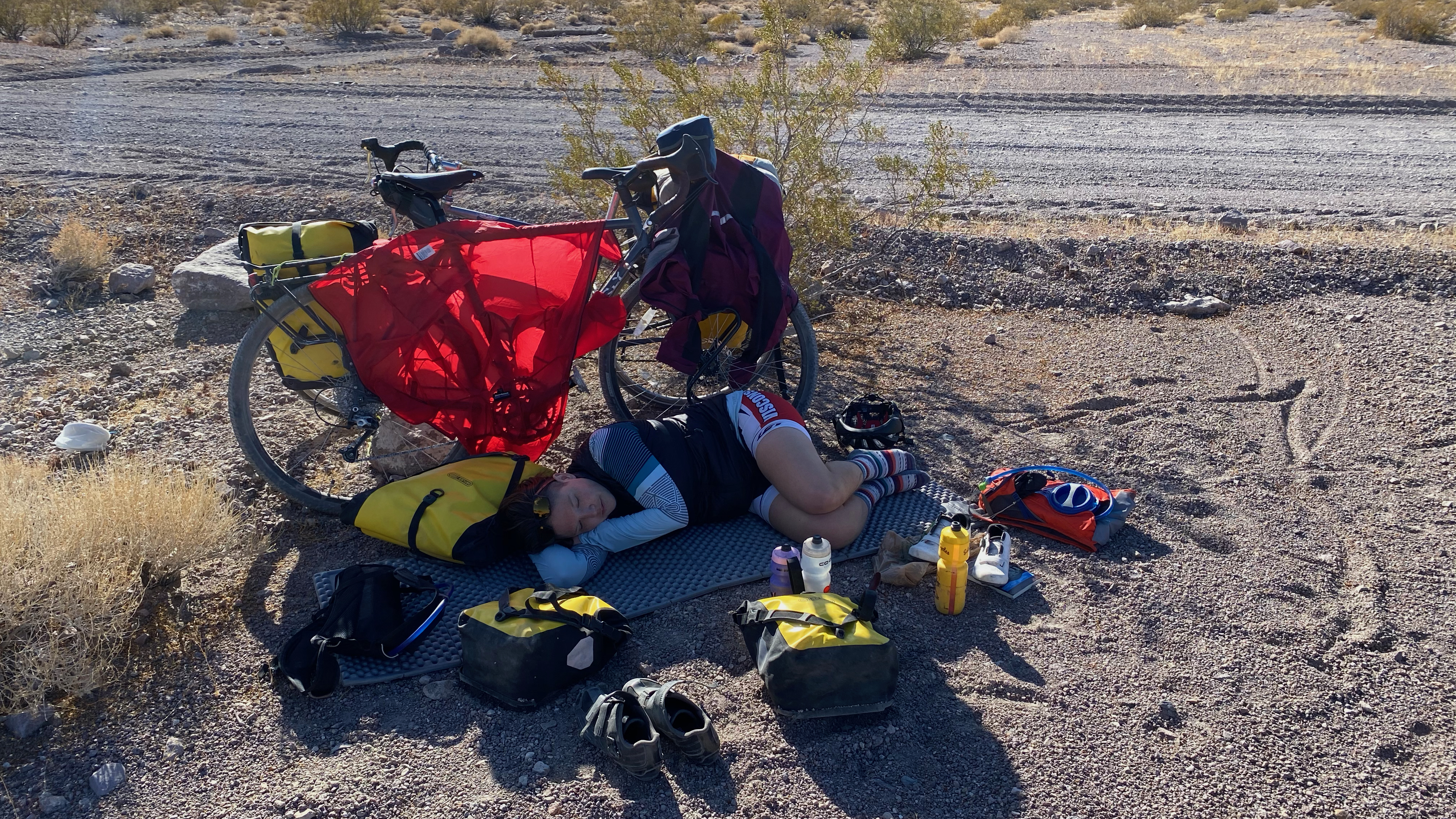 Overlooking Ubehebe Crater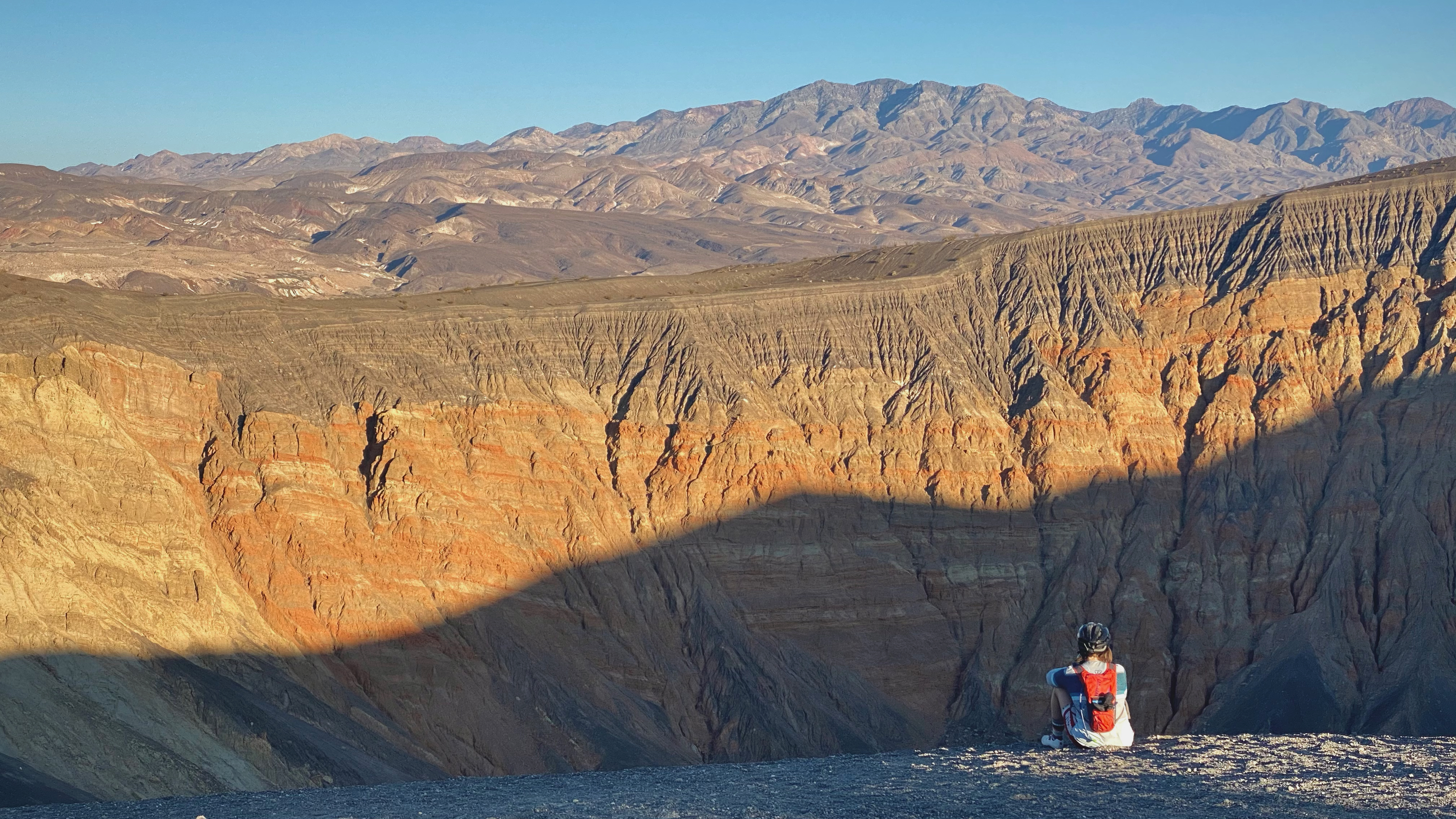 Day 3
Day 3 was funny. We woke up, had breakfast, and set out on an all-downhill day. Not only was it all downhill, but it was also all paved. Needless to say, we cruised through 40+ miles in just a few hours. Over the past few days we'd heard fighter jets in the distance but were never able to spot them. But today, we were able to finally see (and hear) them roar over us. We saw them during our ride as well as after we got to our destination: Stovepipe Wells.
Stovepipe wells was an underwhelming place; It was an RV park in the middle of the desert with an overpriced gas station food mart. But hey, they had microwave burritos and a microwave so can't knock em' too hard. After a hardy and nutritious lunch of aforementioned burrito and pringles, we hung out at camp for the afternoon. Katerina lazed in the shade of the tent and read. I went for a walk and sketched some of my findings. Together we watched the sunset in the valley and admired the beauty of the desert.
Despite their clear importance, the microwave burritos were not the true reason we stayed at Stovepipe Wells. Actually, we had a roommate, Hayden, who also happened to be on a (car) trip to Death Valley! He had briefly mentioned once that he would cook us dinner, and we never let him live that down. We had just finished a brutal game of cribbage (Calvin eeked out the win on the last hand by one point!) when Hayden poked his head out of his car by camp and shouted for us. We'd slowly been beginning to wonder if he would actually make it, so when we heard his voice, we were ecstatic!
We spent the next few hours eating a fantastically prepared meal of pasta and pesto and goat cheese and sausage and heaps of fresh veggies. Followed up, of course, by smores! It was great to have some contact with a friendly face and exchange stories of our two trips. Hayden headed back to his campsite around 9 pm and we went to sleep not too much later.
Photo break midway through our downhill cruise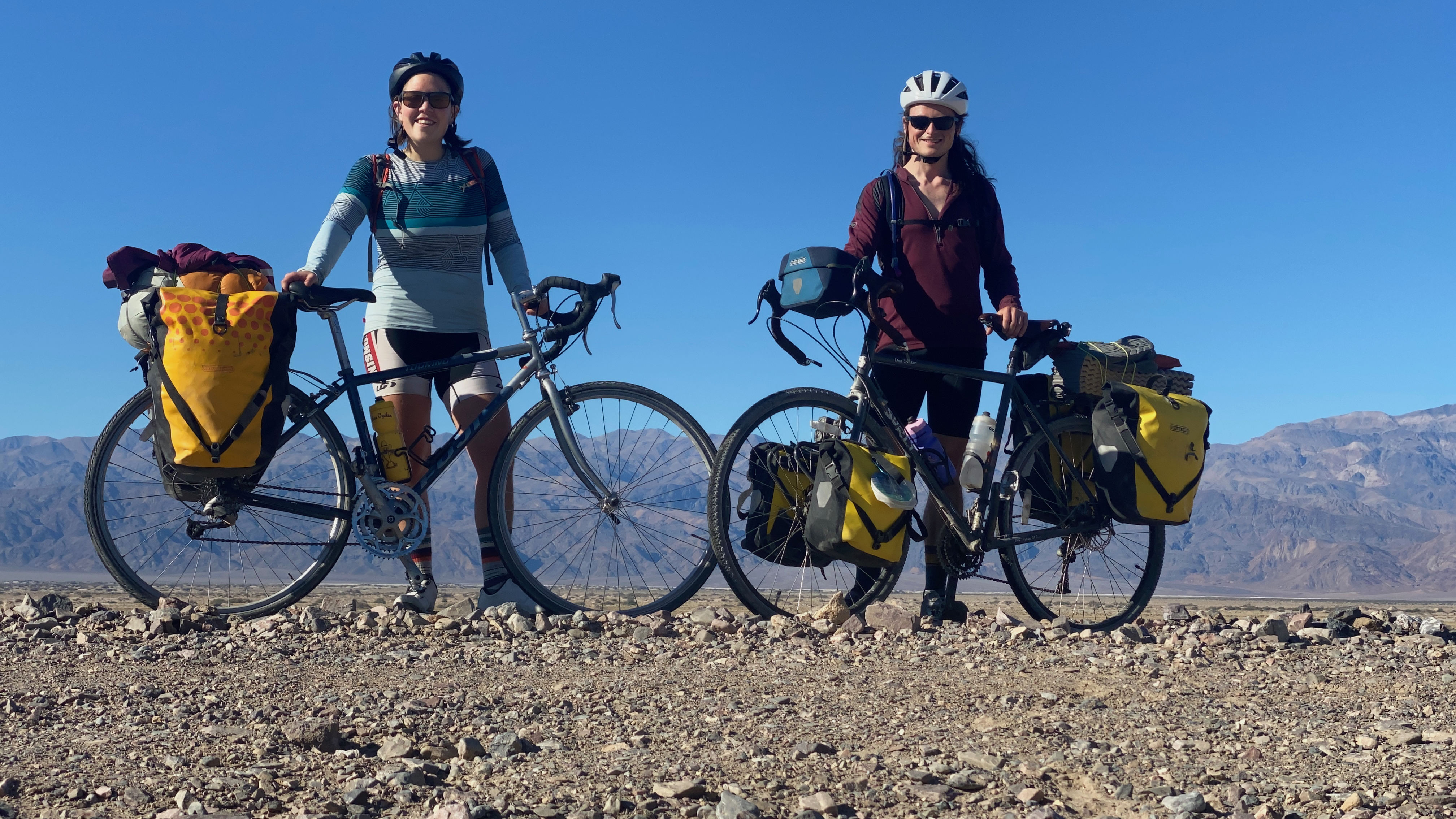 Day 4
This was Thanksgiving day and our big sight seeing day. We had a reservation for the night at Furnace Creek which would be the farthest South that we would camp on the trip. The plan was to bike down to Furnace Creek from Stovepipe Wells, drop our panniers at camp, and then continue down to Badwater Basin: the lowest point in North America.
On our way down to Furnace we creek we made a stop to see Salt Creek and the pupfish of Death Valley. While we were unable to actually find any pupfish, it was still a beautiful and worthwhile stop. We reached Furnace Creek right around lunch time and ate some food while we waited for the occupants of our campsite to clear out. Once they moved on we dropped our gear and headed over to the visitor center to get some pro tips on where to see the sunset. We got some good direction and headed south to Badwater. We biked FAST - just under 20 miles an hour - now that we were relieved of the weight of our packs! At Badwater Basin, we explored the salt flats for a some time and took our obligatory picture with the -282ft elevation sign. Our two trusty steeds obviously made it into these photos.
On our way back to camp, we were going to take the Artist's Drive for sunset. This would end up being the highlight of our trip. As we were biking up the first hill we were getting into the early parts of golden hour. It was stunning. We watched the moon rise over the mountains at our first stop. Continuing on we got golden light, stunning rock formations, and gorgeous roads to lead our eyes into the masterpieces in front of us. As we exited the Artist's Drive loop after sunset, we were treated to a velvety blue hue draping over the giant expanse of Death Valley as we soared down a smooth straight road. It was a magical experience.
After returning to the main road, we put our lights on and started cranking out the last 5 miles back to camp. Cars had been pretty good about giving space during the entire trip - this evening included. These last 5 miles were definitely exhausting as we had already ridden over 60 miles that day. As we got back into Furnace Creek, we stopped to pick up groceries. We were shocked to find that a single can of soup costed nine dollars. We decided to pick up only the essentials and figured that we'd be more satiated by a twenty dollar pizza than twenty dollars worth of soup, so we also picked up a pizza. What a perfect Thanksgiving feast!
Photo op at Badwater Basin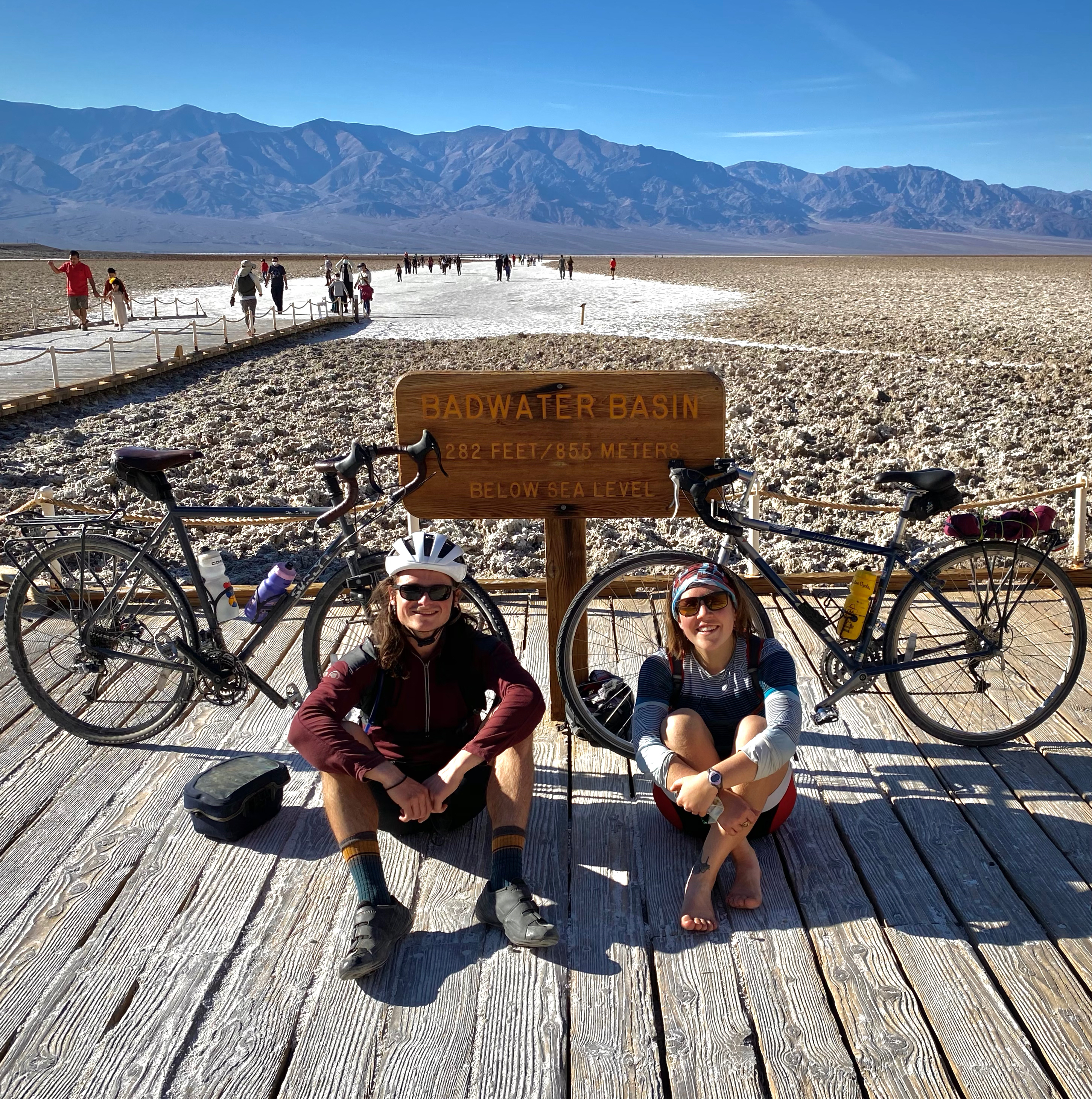 Kat climbing up Artist's Drive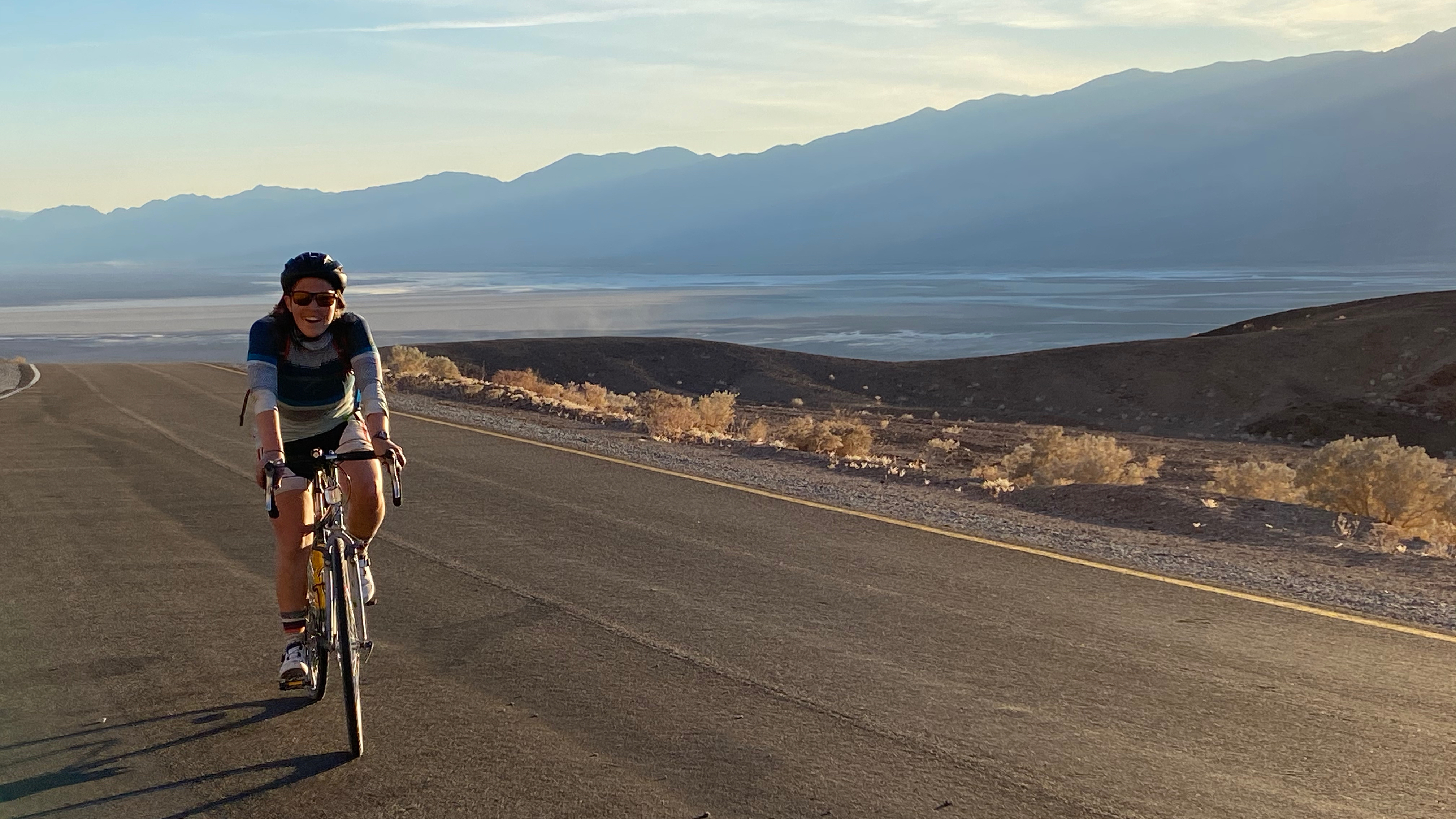 Artist's Drive during golden hour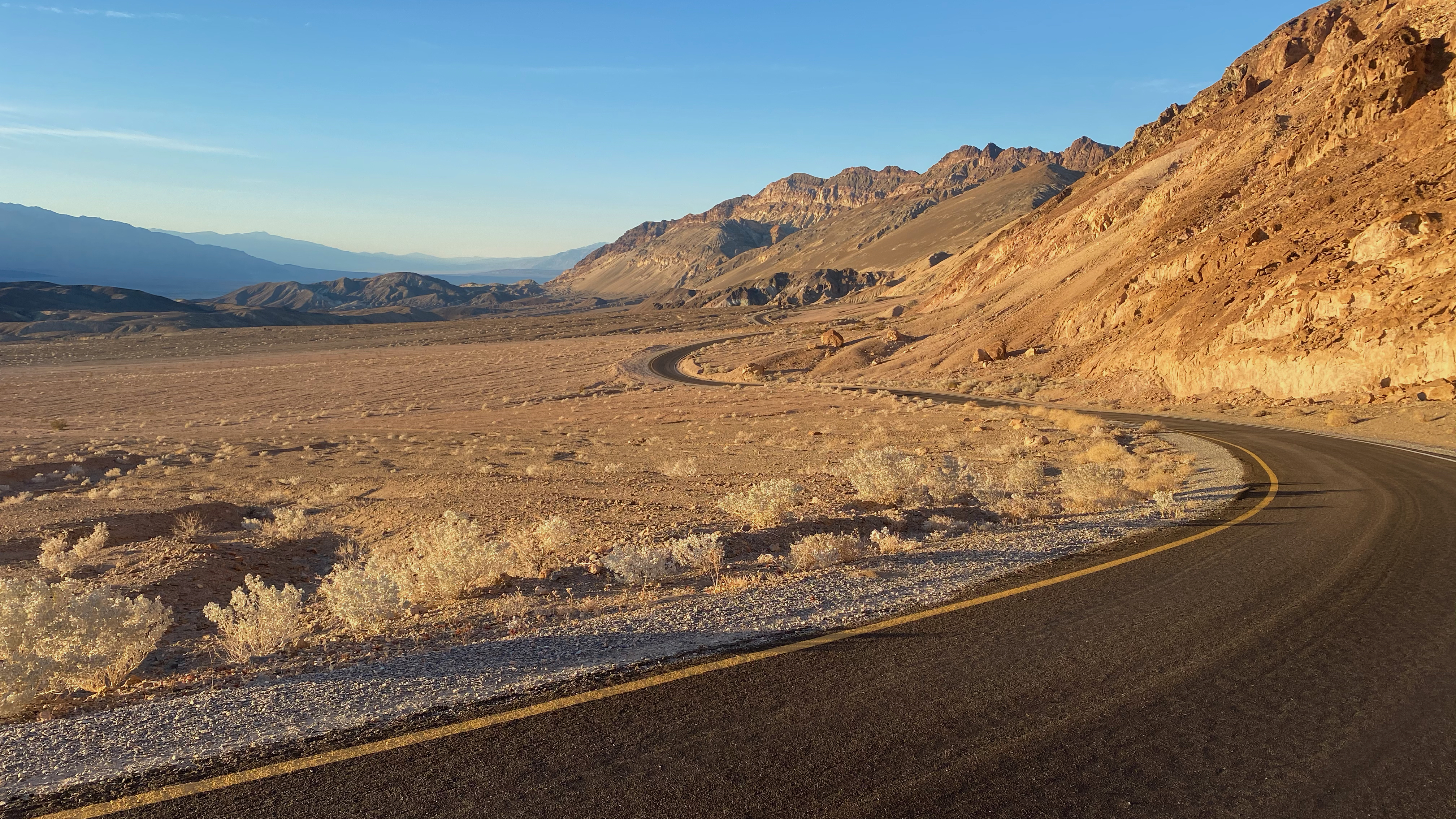 Thanksgiving dinner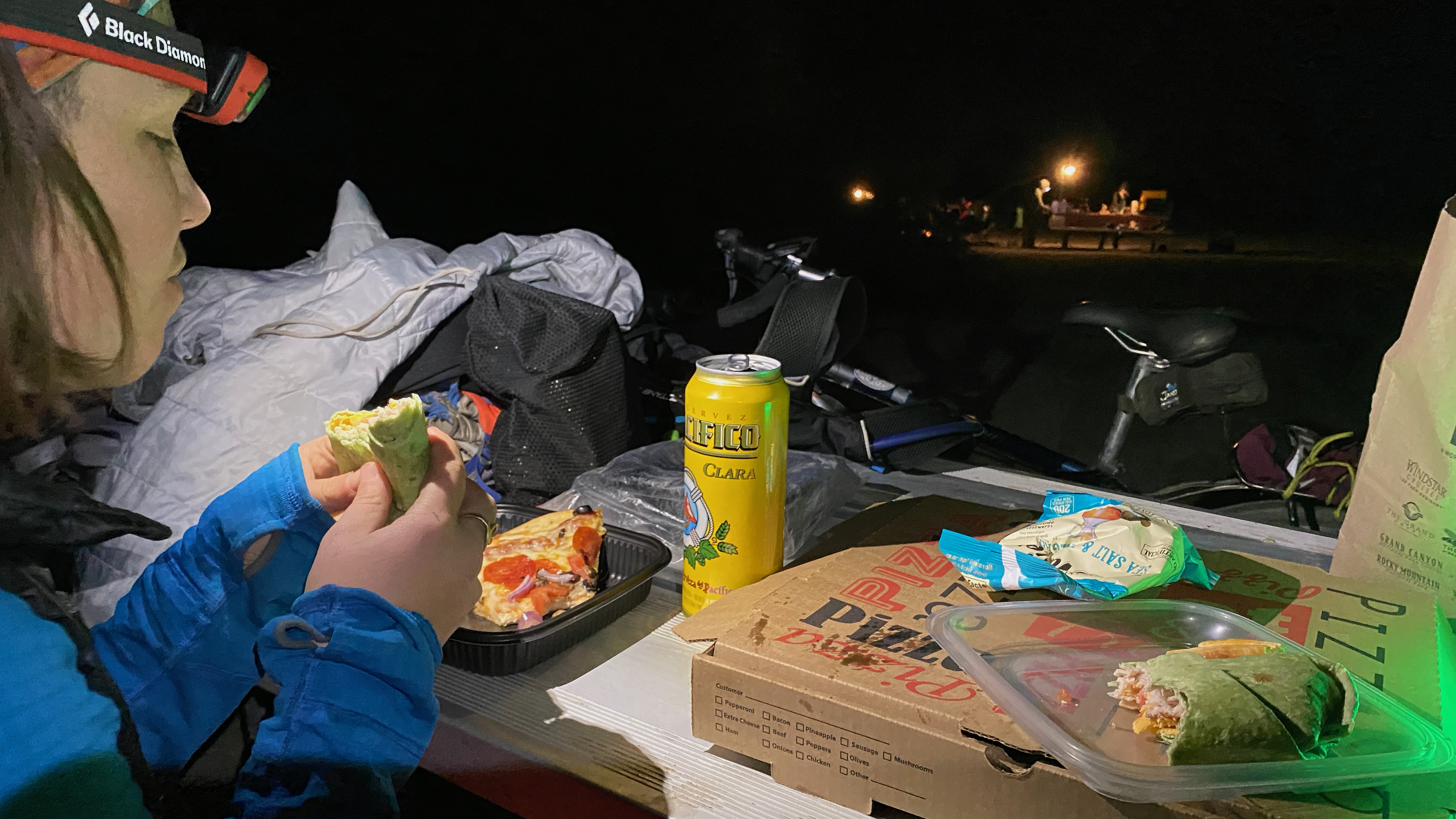 Day 5
We had a grueling day planned that would end up being even harder than expected. There were about 25 miles of relatively flat riding that we wanted to get done early so that we could have plenty of time for the 5000 foot climb in the afternoon. Unfortunately, we encountered some wind. But not just any wind, we were in a full on sand-storm. We did a lot of drafting and made it to the start of our climb (coincidentally Stovepipe Wells, where we could stock up on microwavable burritos) pretty beat. But, with an absolutely massive lunch in us, we were ready to start the climb.
We were heading up over Emigrant pass to get to Wildrose campground. As we left Stovepipe Wells we made sure to turn around plenty of times to say goodbye to Death Valley. As we climbed higher up into the Panamint Range we could notice the stark difference in vegetation. Things went from 'very dry desert' to 'somewhat dry desert.' The desert brush became thicker and we could see higher up in the mountains forests of Piñon Pine and Junipers.
We climbed with a few snack breaks before making it to a wide open plateau. We could see Telescope Peak, the highest point in Death Valley, as well as other peaks of the Panamint Range. In the late afternoon, we crested Emigrant Pass and started meandering our way lower in elevation. Things were pretty cold up there, but we had to stop often to enjoy the golden light on the flora studded high plains. The turns got tighter and tighter before we finally reached Wildrose campground.
Of course, we had reached the campground after all the sites had been occupied. Luckily a group of younger folks saw us roll up and asked if we wanted to pitch our tent by their site. We happily agreed. The sun was setting at this point so we quickly put on warm clothes, made some ramen for dinner, and got into the tent.
It's windier than it looks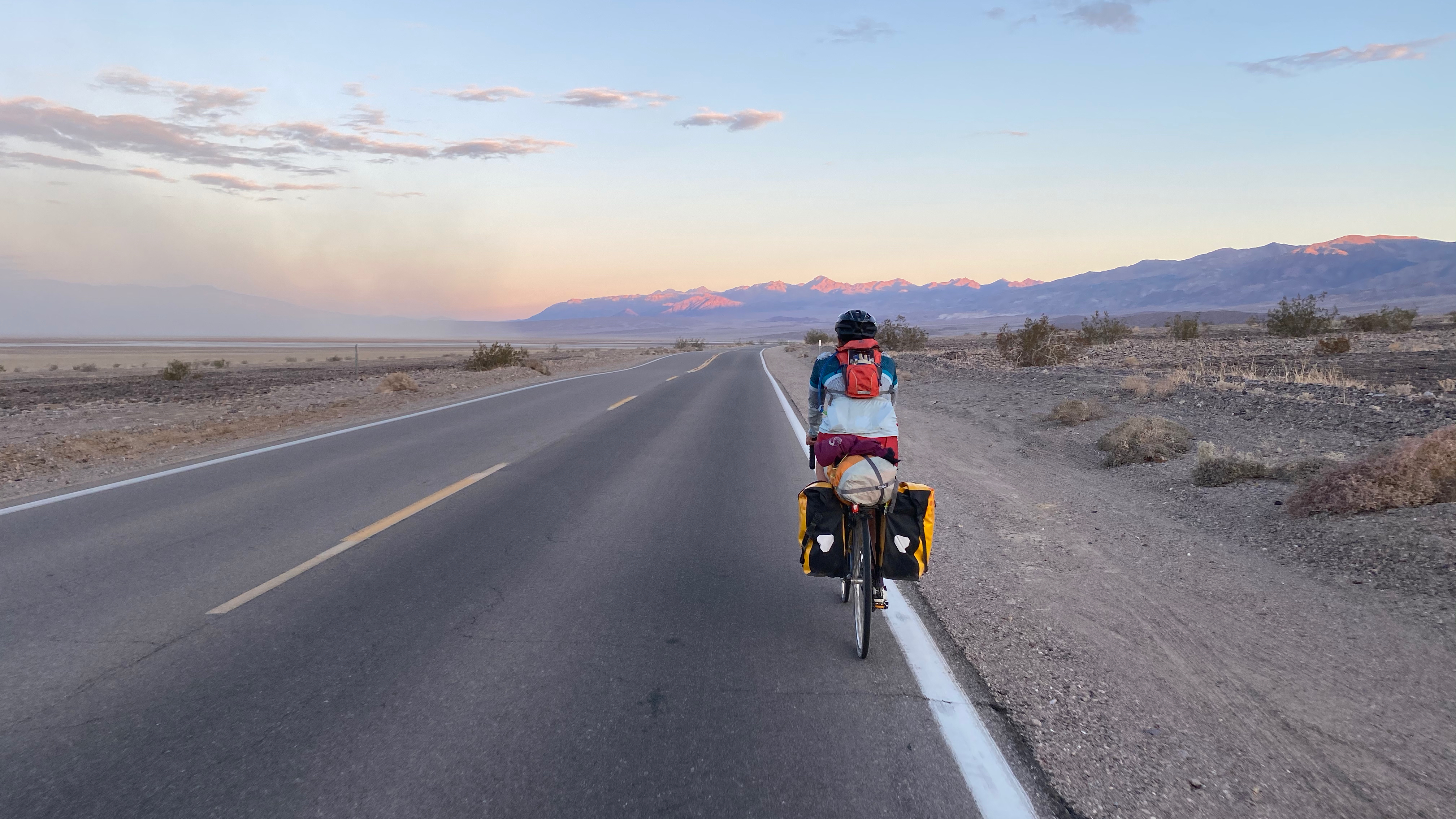 Sweeping vistas descending from Emigrant Pass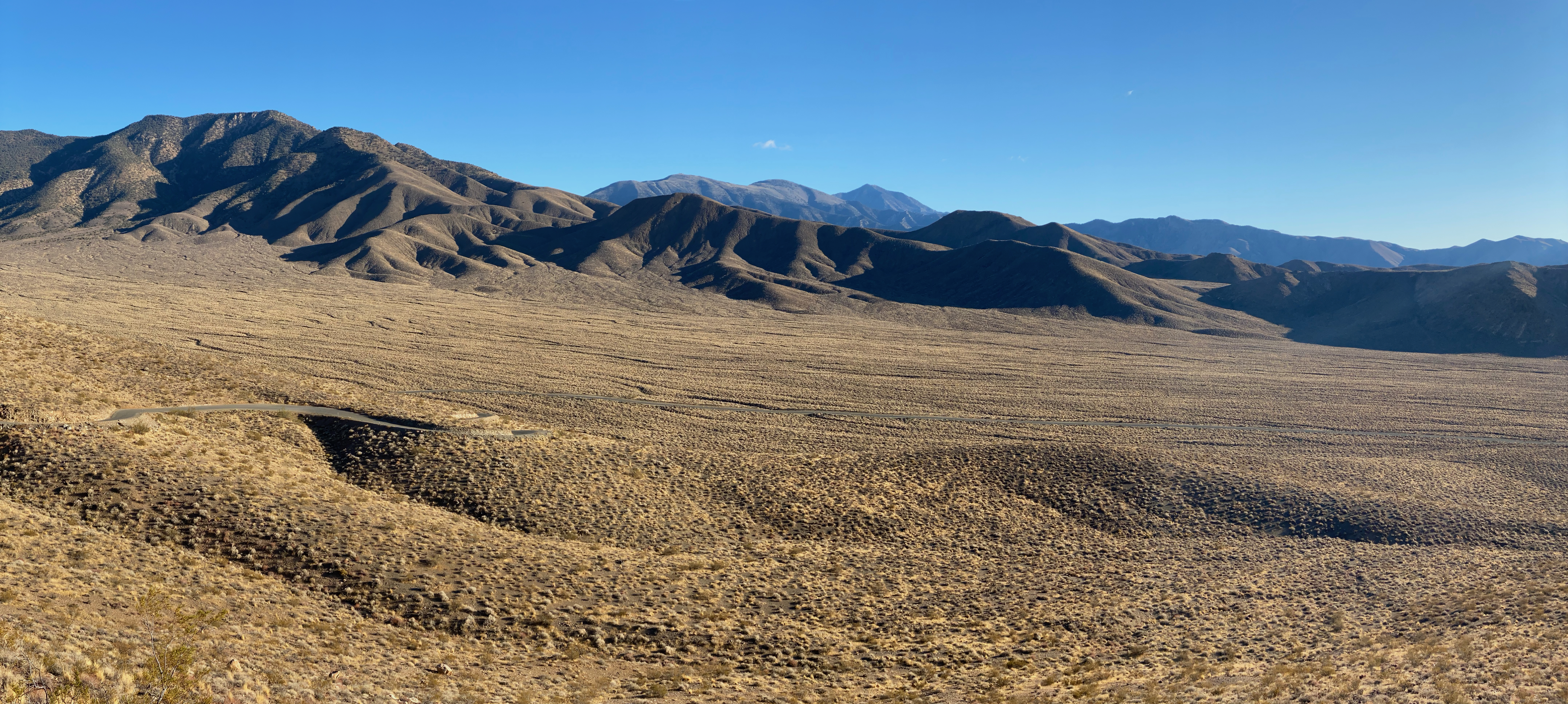 Day 6
Loopdeeloop day! Today's mission was to check out Ballarat, CA. "Where the hell is Ballarat, CA?" you might ask. Excellent question.
We started our day with a long downhill out of the Panamint range into the valley. The road quality was poor at best. It's always a little sad to ride down a bad road after working so hard to gain the elevation. Alas, downhill is downhill so we weren't complaining too much. We passed a nice little oasis and some springs with flowing water on the way down, but things quickly turned back to the parched desert landscape.
We finished our descent at an intersection with a dirt road and that's the road we took. The next section of the ride was a loop with Ballarat at the mid point, so we stashed our panniers in the desert to retrieve later. Despite being bright yellow with reflective tape, they blended in reasonably well.
We started the loop and had some minor run ins with sand but also some absolutely fantastically flowy sections tightly packed dirt. There were numerous springs in the area. As we rode, we thought we saw a deer head poking out of the brush, but it was actually a group of burros! They were a little wary of us, but didn't scatter so we admired them for a minute or two.
Riding on we found the next striking part of the day: an intergalactic mailbox! Careful, don't stand too close or else the aliens might accidentally beam you up! We regretted not having a post card to put in it. After snagging some pictures we rode on to Ballarat: a ghost town!
Except this town wasn't particularly ghostly. There was a small gift shop, a museum, an RV park of sorts, and the rest of what used to be Ballarat (now a ghost town). We ate a lunch of gold fish, elk salami, oranges, and some excessively salted wheat thins while sitting in the shade of a lone standing wall. We checked out the town jail and some of the old vehicles, and then I bought a sticker that poses the question: "Where the hell is Ballarat, CA!?"
We continued on our loop and eventually made it back to the pavement. We picked up our packs right where we'd left them and continued on our way. We had another 10 miles to get to our camp site on BLM land. While riding, we got passed by an RV who was trying to be encouraging by giving us a honk on the horn. Not cool, man. If you're gonna honk, at the very least take your 10 ton RV fully into the other lane rather than squeezing by. Alas, such is the life of a cyclist touring on the roads.
We made it to a camp spot before sunset was getting into full swing and made to sure to appreciate our last night watching the sun set on the Panamint Range. We also made sure to finish the whisky we brought. No need for any extra weight on the last big climb!
Burros on our way to Ballarat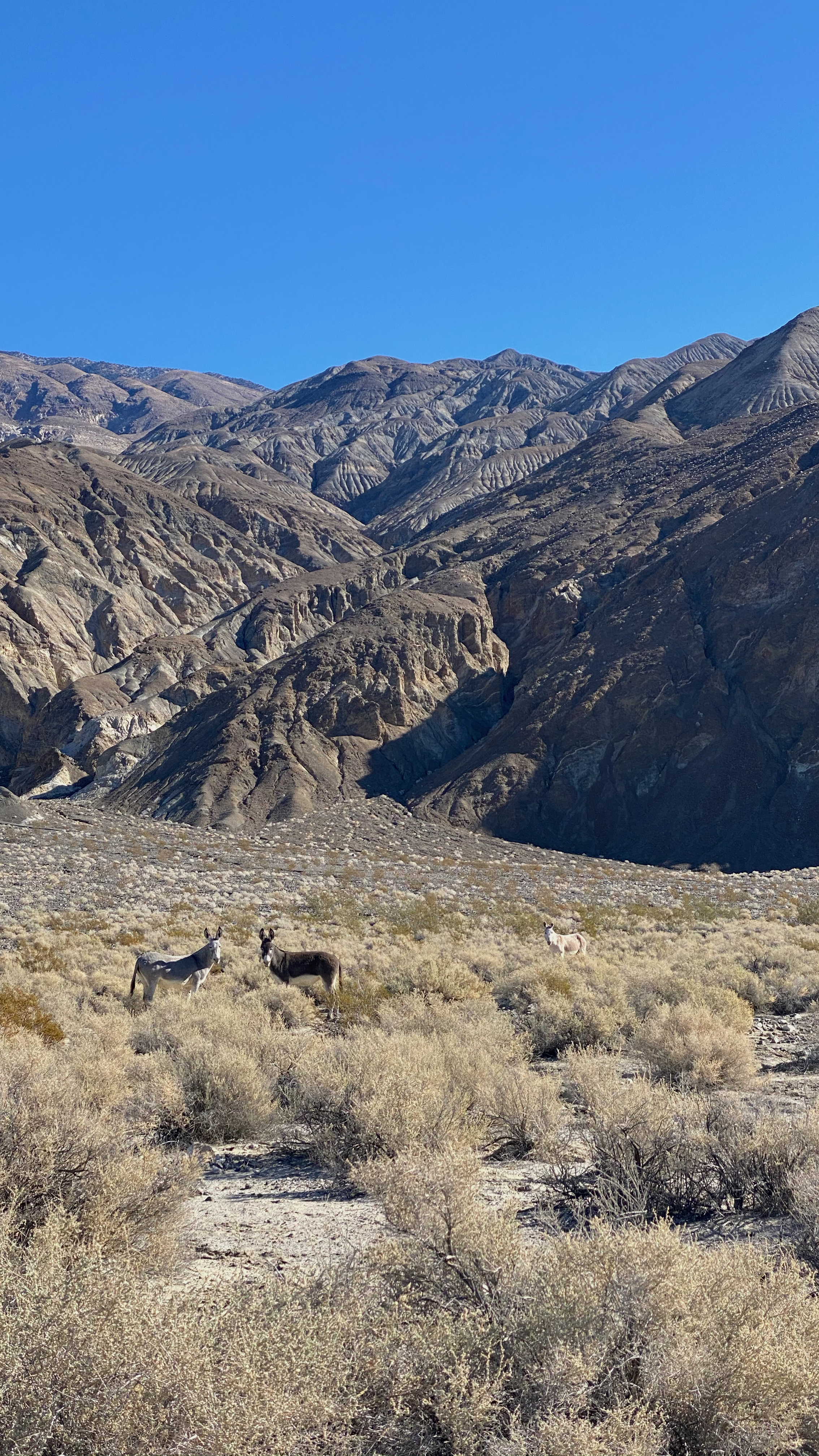 An intergalactic mailbox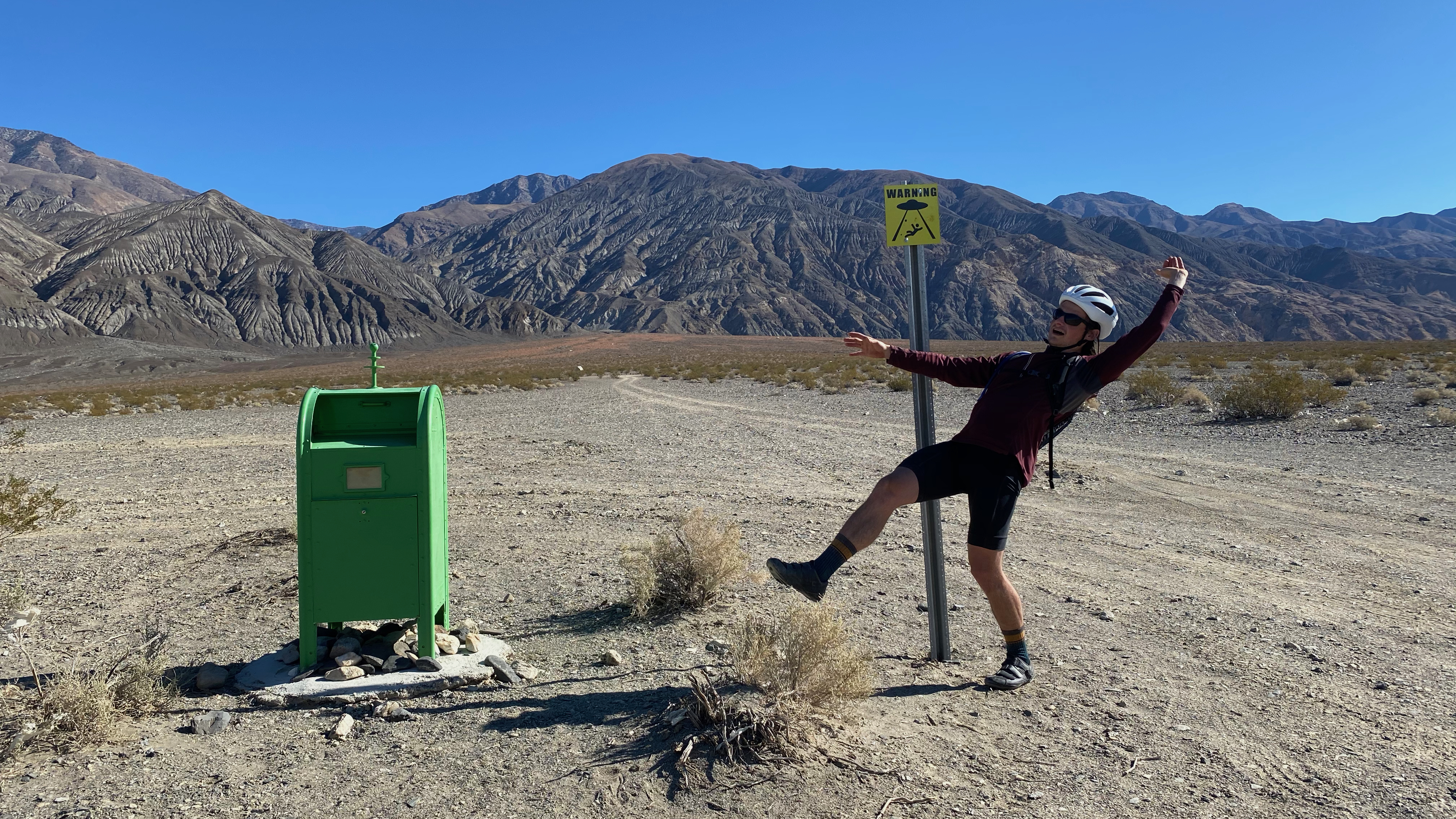 The view from the town jail in Ballarat, CA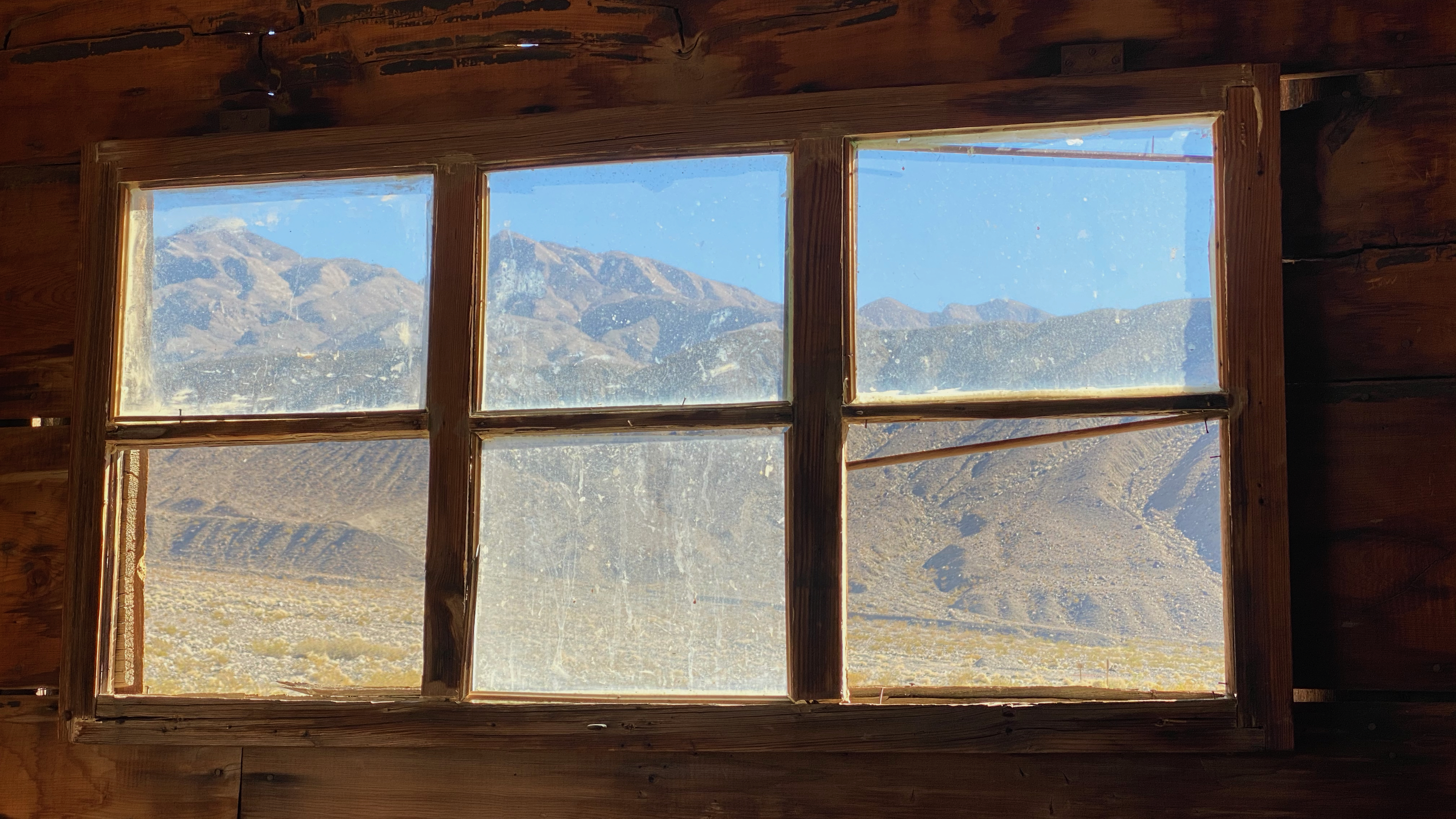 Sunset in Panamint Valley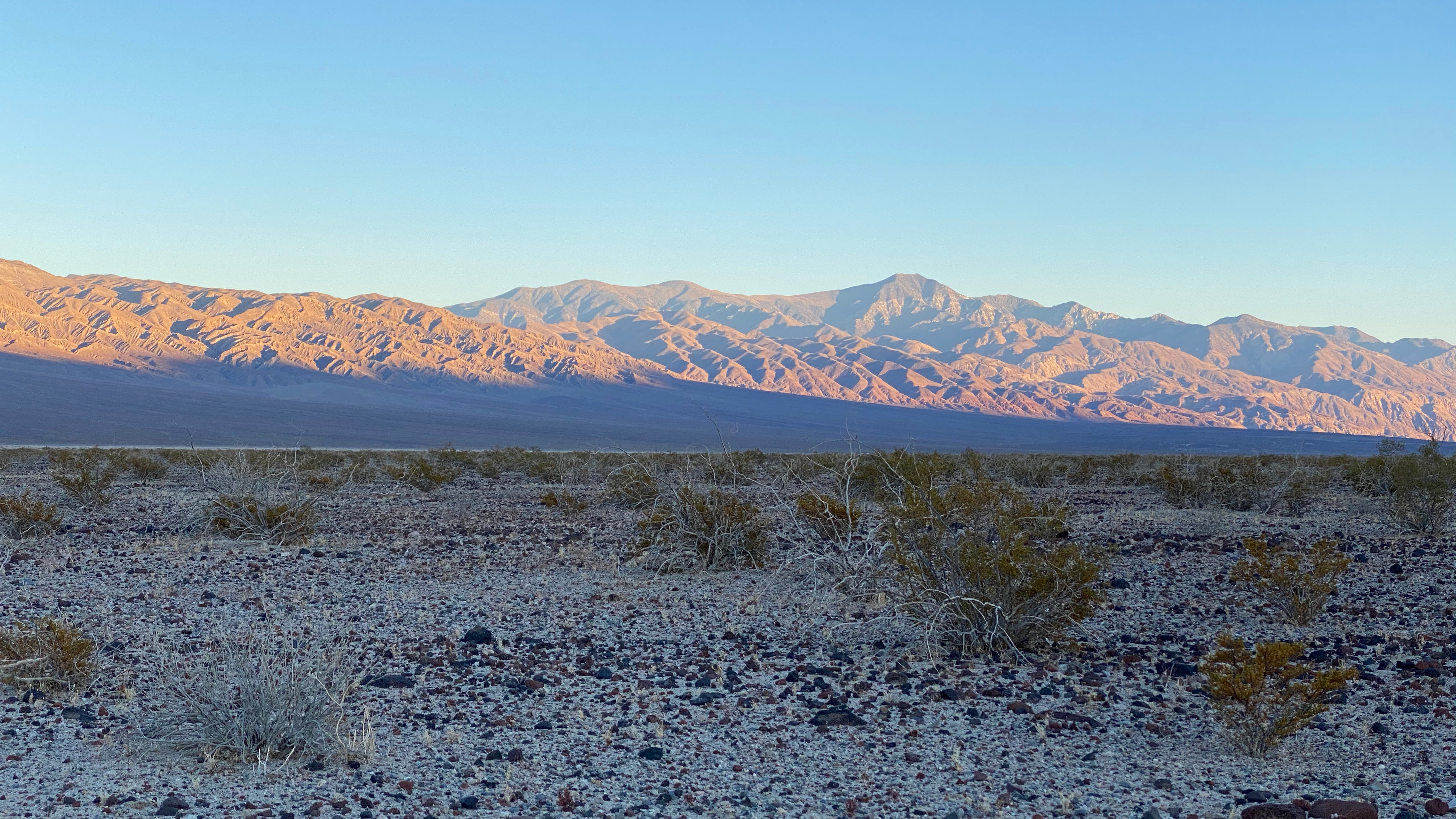 Day 7
Another day of early rising in order to make our big climb before things got hot. Unfortunately, we ended up a little too far on the other end of the spectrum. We were freezing our fingers off in the wind even with our gloves on. We made a quick pit stop in Panamint Springs to get some water and to defrost our hands.
We also stopped in the gas station store to buy some snacks. While outside, Katerina got chatting with an older guy about The Golden Compass. They chatted for a while about different books (Kat got some sci-fi recommendations from him) and his life (he's from Alaska and spends the winters in Death Valley! What a dichotomy!).
After saying goodbye, we started another day of huge climbs. We had about 6000 ft of ascent today, 5000 of which we were tackling up front. However, we managed to cruise through it pretty easily. I guess being on the saddle for 7 days already meant we were in pretty solid biking shape.
We made a couple pit stops to admire the colors of the rocks, the views of the valley behind us, and the taste of Pringles. Soon enough, we were back in the J trees! We passed the "Welcome to Death Valley National Park" sign for the last time on the trip and made sure to stop and take a few pictures. We biked along on the high plateau for a little while and after rounding a corner we once again had the massive escarpment of the Eastern Sierras in view. We were also done with our 5000' climb!
The next hour or so was blissful downhill. Funnily enough, we only descended about 1400', but it felt like much more! We then got some buttery smooth pavement for the final flat stretch into Lone Pine. This would be essentially our first real town of the trip! They had a grocery store that Katerina described as bountiful and we got some dinner supplies for the night and some more goodies for tomorrow.
The last part of today was up into the Alabama Hills. I had only ever seen pictures of this place and boy did it not disappoint. The crazy rock structures jutting from the earth backdropped by Mt. Whitney were an insane sight to behold. Now add a gorgeous sunset and you really have a view that's hard to beat. We found ourselves a campsite nestled into some rocks and started setting up. After camp was ready we climbed to the top of a rock pillar to soak in the sights. What a way to tie off the second to last day of the trip.
Looking back at our climb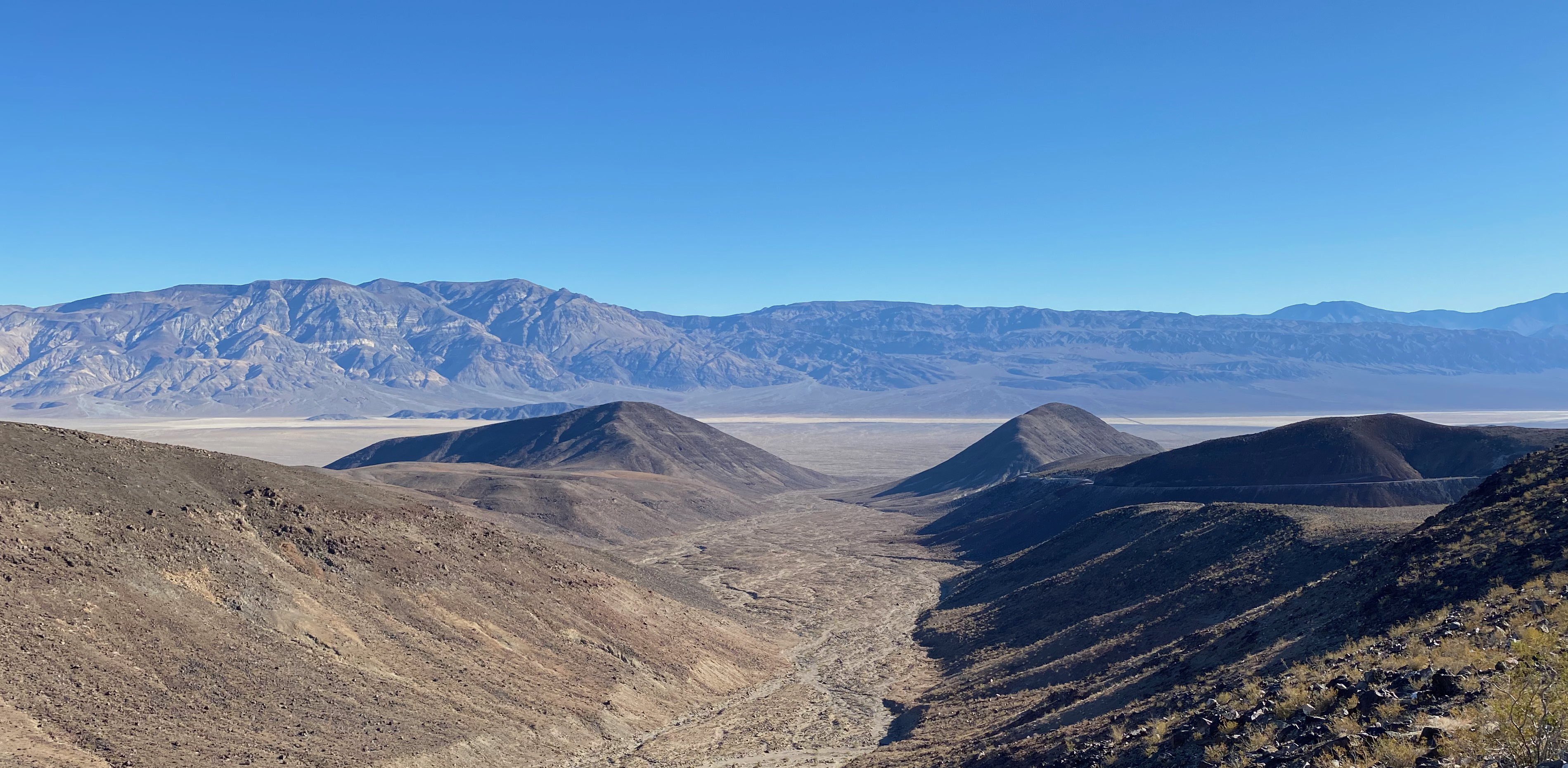 Saying goodbye to Death Valley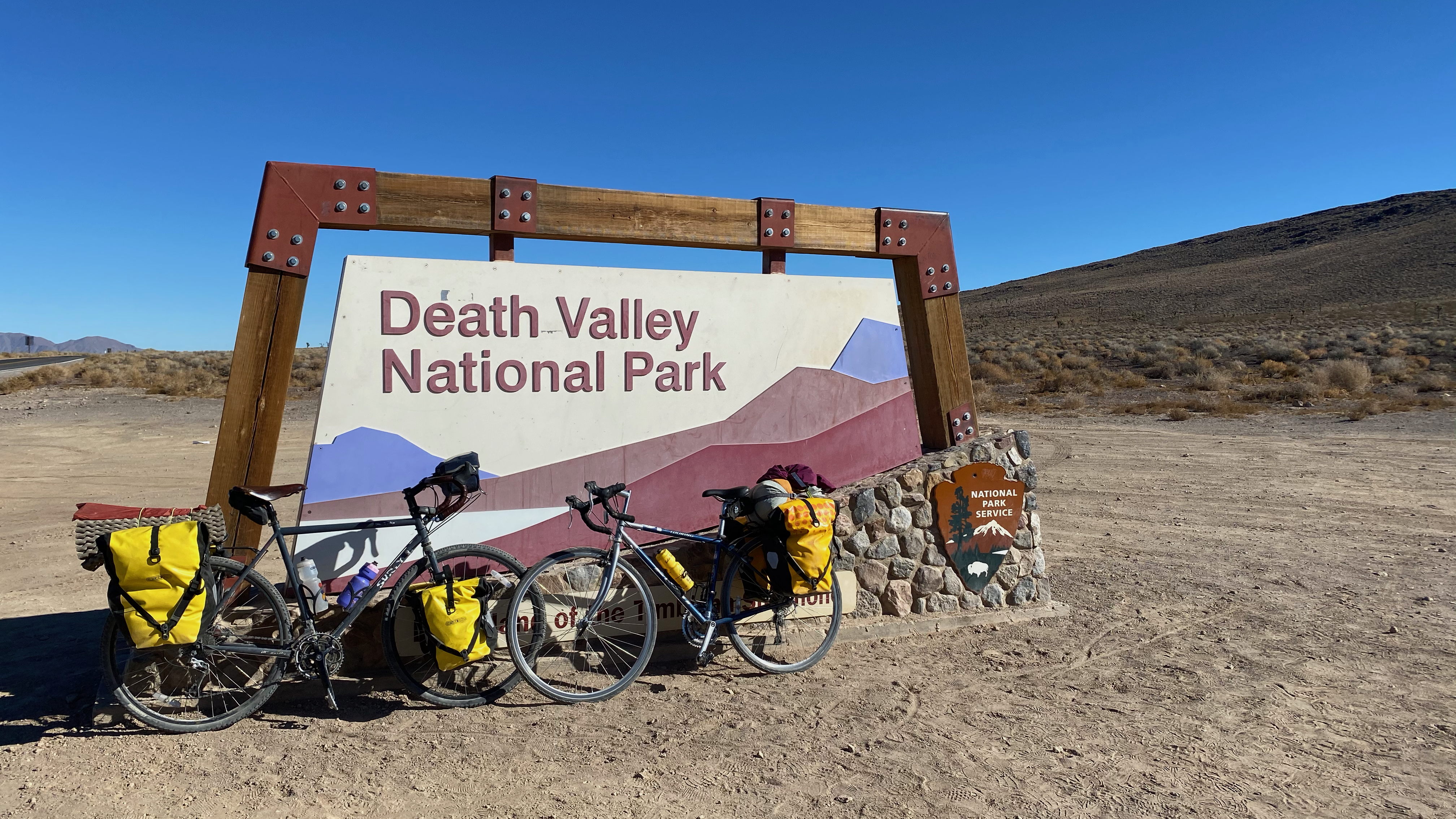 Descending back into Owens Valley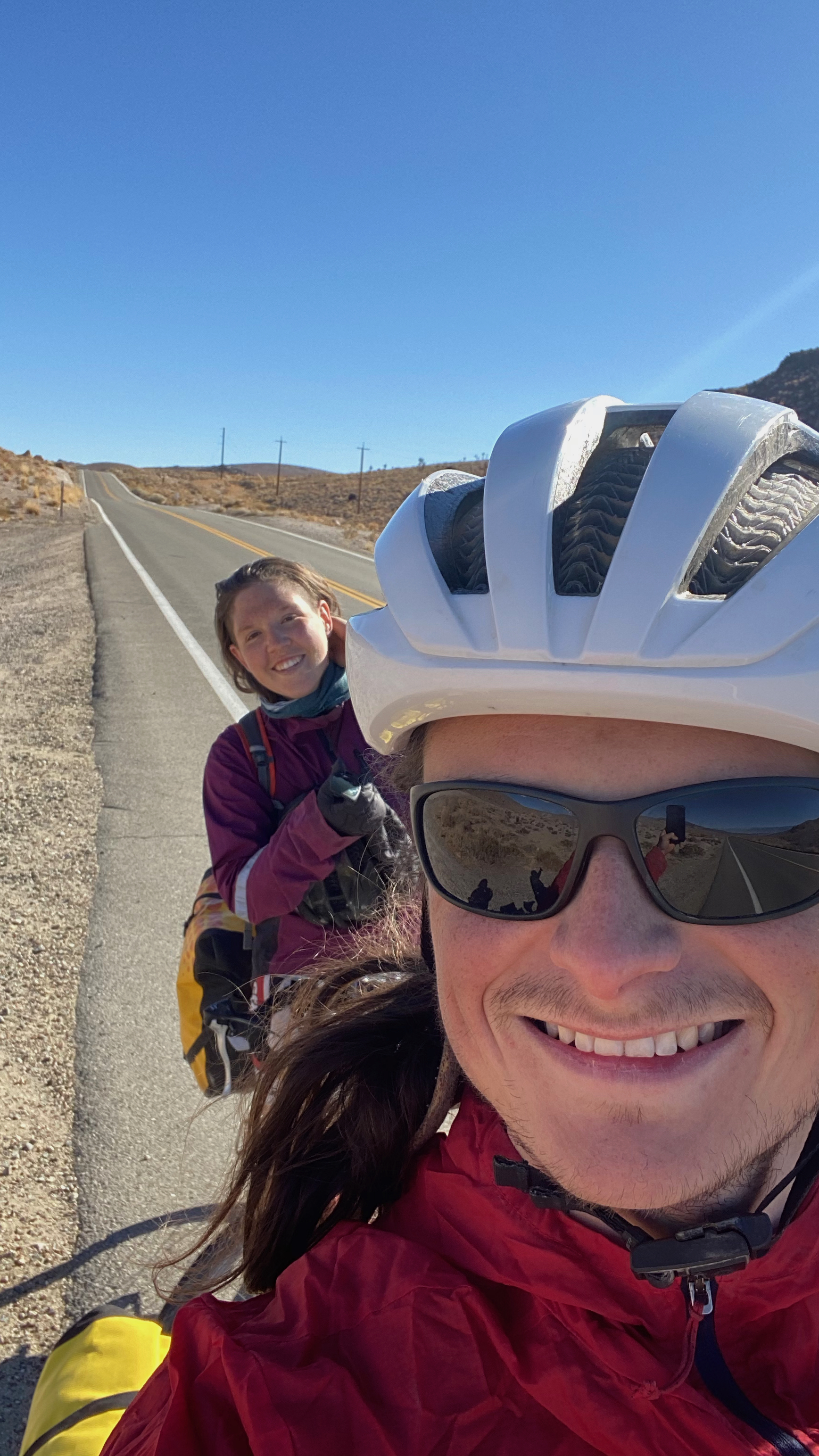 Sun setting on camp in the Alabama Hills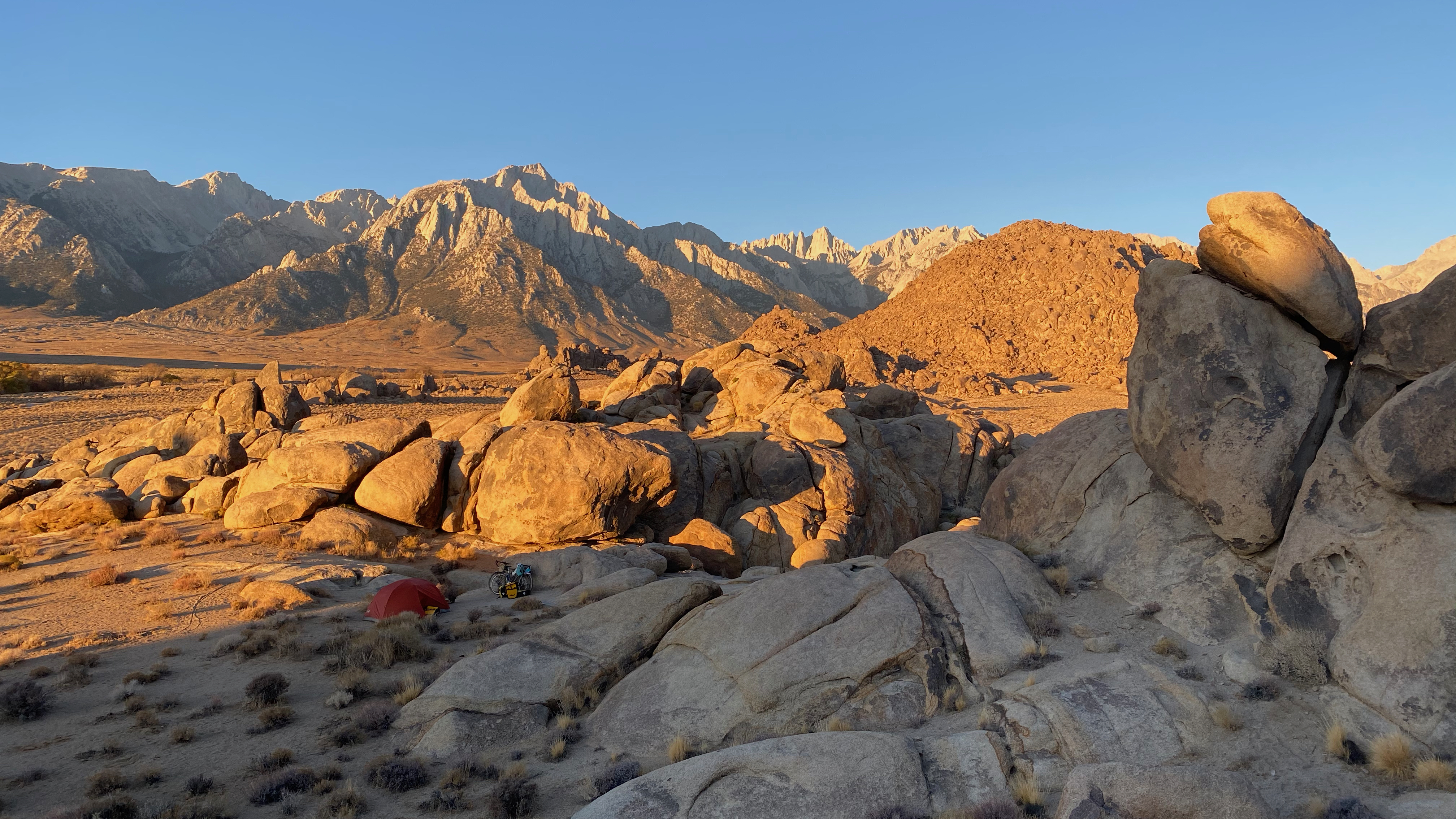 Day 8
The last day of the trip. We woke up early. Before doing anything, we crushed a couple of blueberry muffins from last night's grocery run while snuggled in our bags. Breakfast of champions. I got out of the tent to bounce around the rocks and catch the sunrise on Mt. Whitney. Kat enjoyed some time reading in her sleeping bag.
After reconvening, we were trying to figure out a last minute change to our route so that we could bike along Movie Flat Rd. This is a road where tons of western movies have been shot and is just generally a sight to behold as it weaves through the Owen's Valley Plains. However, we didn't have enough water for the journey; we'd forgotten to buy some at the grocery store last night. I guess we were more interested in food… We decided to ask some fellow campers if we could bum some water off them and they happily obliged. With our water situation resolved, we were off!
We cruised down the dirt along crazy rock formations as well as stunning views of the Sierras and the Inyo Mountains. We even found some of the last fall colors near a river which was a beautiful foreground for some photos. After being on this road for about an hour north, we got back to US-395. Along we went. We stopped at some informational signs that told us stories of the natives from Owen's valley including their beliefs behind a large natural obelisk on top of the Inyo mountains. Eventually we stopped at a rest area with a crystal clear creek and ate some lunch.
This was the last stretch of the day. As we biked along 395 and neared Big Pine again, I caught a glimpse of Gump parked many miles away in the desert. Right where we'd left him! We took some detours through the neighborhoods of Big Pine and along the LA Aquaduct canal. This canal actually diverts a ton of water from Owens Valley down to L.A. It's contentious to say the least.
After startling some skittish cows we finally made it to our turn! As we pulled up to the road another pickup had just parked and out jumped an older man and his two dogs. As we biked up the road to our car we chatted with him. He noted that he had been watching our car for the whole week and was thinking about calling the sheriff about it soon since it hadn't moved! Good thing we got back when we did! He also told us about the same time last year when they had 6 inches of snow on Thanksgiving. We were grateful that we'd had good weather the whole time! That would have made for a very different trip!
The relief when we got back to Gump was palpable. We finally got to take off the sweaty clothes that we'd been wearing for 9 days and get some fresh ones. Then we drove off to our next destination: hot springs. Nothing rounds out 9 days of biking like soaking in a hot tub for a little while! We got there with a little bit of sun left and basked in the pool's natural warmth for a while. We could feel the grime wash off of us. It felt good.
That was it. We got back in the car and started our 6 hour drive home to Berkeley tired, but thoroughly fulfilled. It had been everything we'd imagined and a lot that we couldn't have even dreamed of. With year two of our annual bike tour in the bag, we were already looking forward to next year. Who knows, maybe we'll go somewhere with water!
First light on Mount Whitney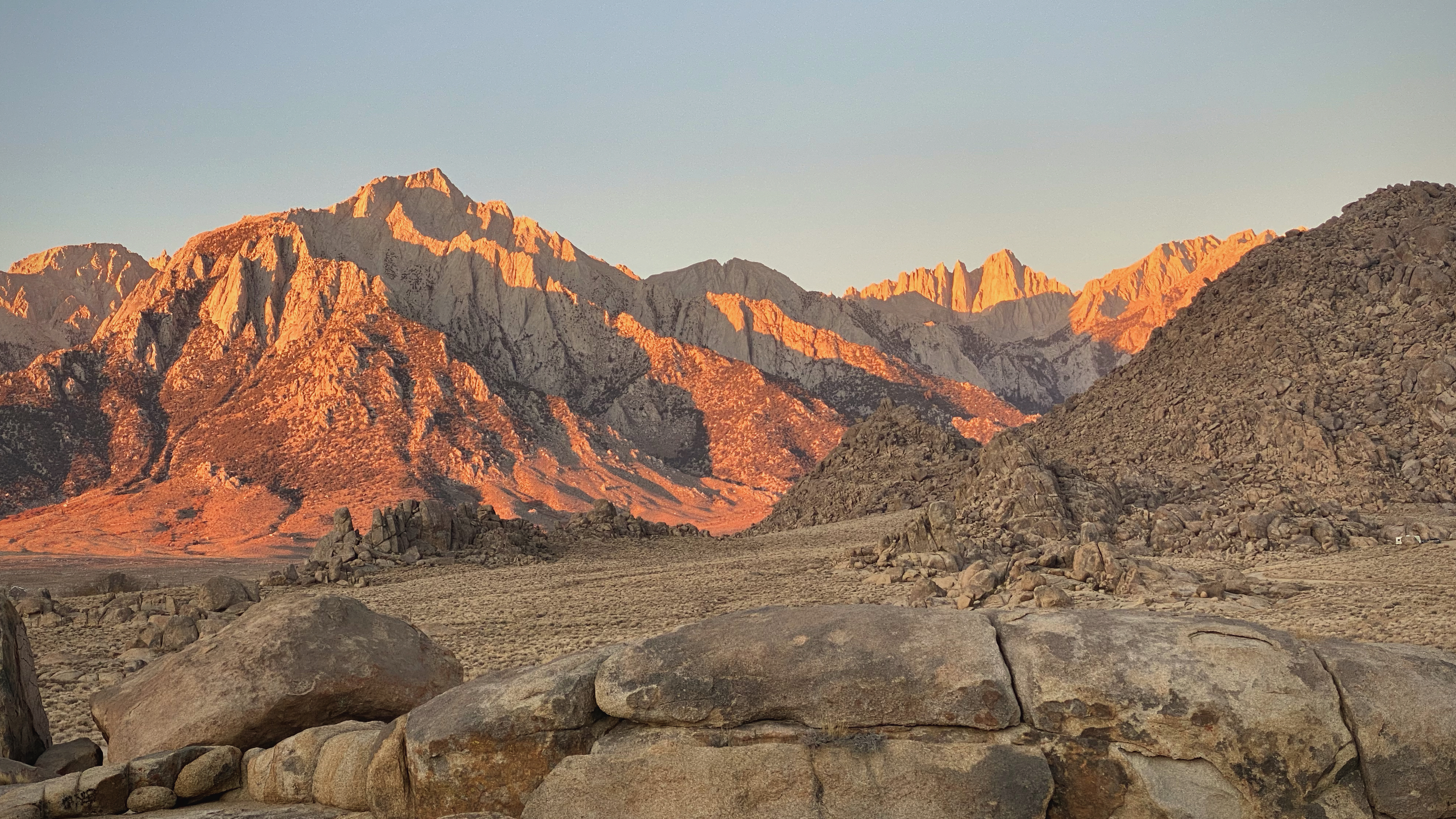 Some fall colors under the Eastern Sierras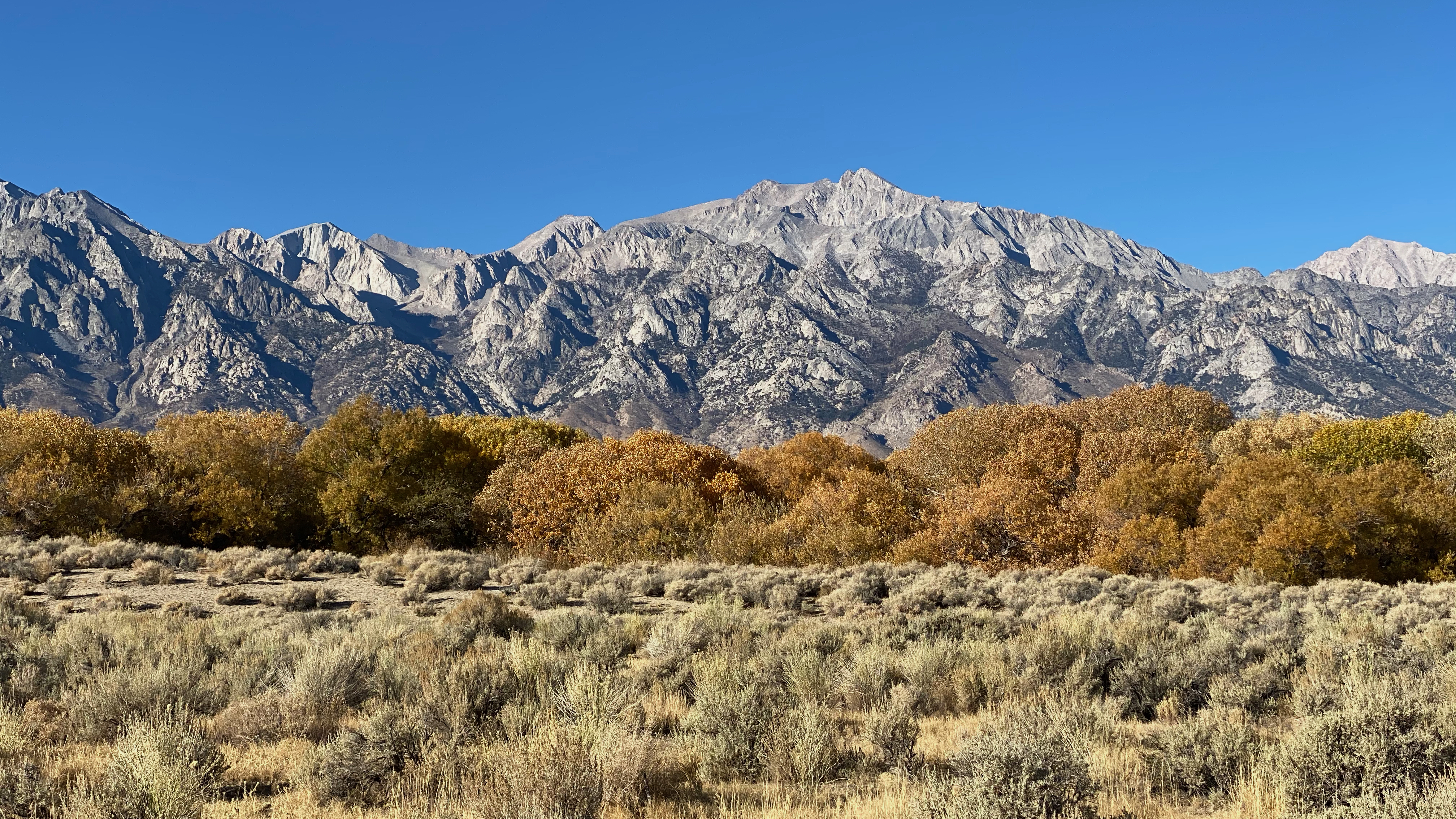 Movie Flat Road